Melvin Elliott (LtCol USAF, Ret) "Headed West" on May 10, 2021.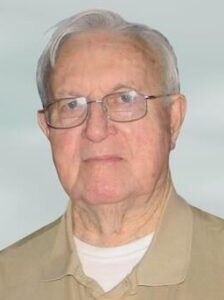 Glendale, AZ –  Melvin C. Elliott, 91, passed away surrounded by his children on May 10, 2021, and was reunited with Pat, his best friend, and wife of 61 years. He was born September 23, 1929, in Spavinaw, OK to John and Georgia Elliott. He enlisted in the U.S. Army Air Corps in 1946. After seven years as a radio operator, including a tour during the Korean War, he entered aviation cadet training and earned his pilot wings and his commission as a 2nd Lieutenant in 1954. For most of the next 20 years, he served as an F-84 and F-100 pilot. He fought during the Vietnam War flying the A-1. He retired from the U.S. Air Force as a Lt. Colonel in 1974 and rejoined his family in their long-time home in Glendale.
Mel met and married 1st Lieutenant Patricia Hodgens at Turner AFB, GA in 1956; he made good on his promise to take care of her until her passing in 2018. Mel is survived by son, Edward Elliott and wife Nora of Durham NC; daughter, Kathy Sparks and husband Mark of Glendale, AZ; daughter Barbara Westbrook and husband Darrel of Gainesville, TX; brother, George Elliott; six grandchildren and three great-grandchildren with his first great-great-grandchild on the way.
Mel was a wonderful husband, father, Popo, and friend to all; he spent his life serving others through his long military career, volunteering and being there for anyone who needed him. He was interred with his beloved wife in the National Cemetery of Arizona on June 18, 2021,  with a celebration of life at his daughter Kathy's home.
Source: The Arizona Republic (legacy.com)