John Richard "Dick" Niemela  (Col USAF, Ret) "Headed West" on August 28, 2021.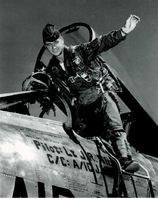 Reston, VA – Col. John Richard (Dick) Niemela, a pioneer in the advancement of jet aviation, and in retirement a single-digit handicap golfer and gentleman farmer passed away Saturday 28 August 2021 in Reston, Virginia. He was 92.
John was born in Peterborough, New Hampshire in 1928 to a large Finnish farming family of strong Lutherans. He was the oldest of 10 children. He attended Peterborough High School and upon graduation attended Suomi College (now known as Finlandia University) in Hancock, Michigan. He went on to earn a bachelor's degree in history from the University of Omaha and a master's degree in political science from the University of New Hampshire. He was also a graduate of the Air War College.
He entered the U.S. Air Force in 1950. During the Korean War, he flew the F-100. In the Vietnam War, he flew the 01 Bird Dog as Forward Air Controller (FAC) leading the American Air Support for the 1st Australian Task Force. Dick was one of the pioneer pilots in jet aviation testing the F-86, F-100, and F-104 aircraft. In one test run over the Sierra Mountains in California, the F-104 malfunctioned and he managed the second successful downward ejection.
As one of the original F-104 pilots, he was signed into the Order of Starfighters International F-104 Society. In 1956, while stationed at Tactical Air Command at George Air Force Base, he flew the F-100C Super Sabre in the Bendix Trophy Race, from George Air Force Base, California to Will Rogers Air Field, Oklahoma.
He was a recipient of several medals including the Distinguished Flying Cross, the Bronze Star, and the Air Medal.
As a farmer, every year he planted a prolific 30'x200′ vegetable garden. He applied tried and true farming and animal husbandry skills in the care of the farm animals ensuring their fields were always full of clover. His peach and pear trees are prolific and especially so this year.
Dick is survived by his wife of 65 years, JoAnn Huston Niemela, their five children, and seven grandchildren. A private burial at Arlington National Cemetery will take place in the coming year.
Source: John Niemela Obituary (1928 – 2021) – Reston, VA – Monadnock Ledger-Transcript (legacy.com)