John F. Peebles (LtCol USAF, Ret) "Headed West" on August 13, 2021.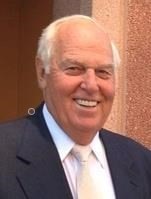 John F. Peebles, 83, of Lebanon, Ohio, passed away peacefully on Friday, August 13, 2021. Born on August 10, 1938, in Lyons, Ohio, to Ray Randall and Gwendolyn (nee Pickles) Peebles, as the fifth of their ten children.
John was a graduate of the United States Air Force Academy, Class of 1960, and earned the Distinguished Flying Cross as a fighter pilot during the Vietnam War. He later became Deputy Commander of Operations for the Toledo, Ohio, Air National Guard (112th TFS) for many years, where he retired from the military with the rank of Lt. Colonel.
John then became a pilot for TWA. Following his distinguished flying career, he became a very successful sales leader and was ultimately promoted to President of Universal Instruments Corporation. He ended his career as VP of International Sales for Cincinnati Milacron where he traveled all over the world.
Preceded in death by father, Ray Randall Peebles; mother, Clarissa Gwendolyn (Pickles) Peebles; sister, Lenora (Kenneth) Borck; brothers, Al (Nancy) Peebles and Daniel (Jean) Peebles.
John is survived by his loving wife of 61 years, Barbara (nee Morel) Peebles; four children, Bari (Chris) Saul, Brent (Laura) Peebles, Mike (Lisa) Peebles and Steve (Kerri) Peebles; fifteen grandchildren, Grant (Tiffany), Clark, Mason, Eric, Cassidy, Natalie, Allison, Dana, Kendyl, McKayla, Ian, Justin, Jackson, Elizabeth and Brayden; three great-grandchildren, Levi, Hailey and Sophia. Other survivors include brother, Richard (Ella Jean) Peebles; sisters, Amy (John) Schultz, Ina Rae (Dallas, deceased) Whaley, Jewel (Dennis) Powers, Lois (Herschel) Blackerby; and brother, Ray Randall (Linda) Peebles.
He loved his family deeply and enjoyed all kinds of sports, notably as an avid golfer.
A visitation will be held on Saturday, August 28th from 9-10 a.m., with a memorial service (including live stream virtual option-https://vimeo.com/event/1212155) starting at 10 a.m. at Mueller Funeral Home, 6791 Tylersville Road, Mason, Ohio 45040. Burial service will follow in Rose Hill Cemetery, Mason, Ohio. Lunch reception to follow between 11:30 a.m.-2:30 p.m. at the Manor House, 7440 Mason Montgomery Road, Mason, Ohio. In lieu of flowers, donations may be made in John's name to the Alzheimer's Association. Visit www.alz.org for details.
You can watch a live stream of the memorial service for John on August 28th at 10 am by clicking on the following link https://vimeo.com/event/1212155
Source: John Peebles Obituary (1938 – 2021) – Lebanon, OH – The Blade (legacy.com)