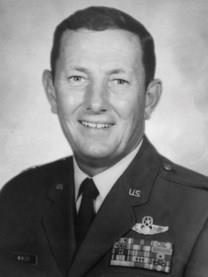 SSS member Daniel O'Brien Walsh headed west May 30, 2018. Dan was born on July 22, 1930, in Des Moines, Iowa to Robert E and Cecilia O'Brien Walsh. Shortly after his birth the family moved to St. Paul, MN. Dan attended Cretin High School graduating in 1948 and attended St. Thomas College graduating in 1952. There he was awarded a commission as a 2nd Lieutenant in the United States Air Force.
He went through flight training and became a fighter pilot, a profession he pursued for 27 years. Dan served in Europe, North Africa, Okinawa, Vietnam, Thailand, and Hawaii. He also had a number of state-side assignments at various tactical fighter bases.
He flew the F-100 in RTU Luke & Nellis AFB, 94th TFS, 1708FS; 355TFS,356TFS Myrtle Beach, S.C.,  12TFS Kadena; Colorado Air National Guard; Bien Hoa AB, Vietnam  1966; and the Fighter Weapons School at Nellis AFB, NV. 
In addition, he served tours at the USAF Academy and The Pentagon. His military schools include Squadron Officer School, Armed Forces Staff College, National War College and USAF Fighter Weapons School. He also earned a Master's Degree in International Political Affairs from George Washington University in 1973. His South-East Asia service included 146 combat missions, 102 of which were over North Vietnam. His decorations include 2 Legions of Merit, 3 Distinguished Flying Crosses, the Bronze Star, the Meritorious Service Medal and 16 Air Medals.
He retired from the AF in December 1978 as a Colonel but continued to fly in civilian life; most notably as Chief pilot for Hilton Hotels and a stint with United Airlines and the Sierra Aces Acrobatic Team. He also continued flight instruction as a CFI and a CFII. He flew his last instruction flight at the age of 84!
He married Susan Yost in 1957. They had 6 children. In 1980, he married Susan Roberts who had 3 children. So between them, there were 9 children which resulted in 21 grand-children and 13 great-grandchildren.
He was active in the Catholic Church, as a proud member of Aspenosium, the Quiet Birdmen, the Red River Valley Fighter Pilots Association, the F-86 Saber Pilots Association, the Super Saber Society,  and the Command Bar Stool Association (CBSA).
He loved skiing, golf, fly-fishing and was probably "reasonably proficient at any sport he tried". He was a fun-loving man and a prankster and perhaps most remembered for "borrowing" a fire truck in Piarco Port Of Spain Trinidad-thus was born the nickname "Fire Can."
Dan is survived by his wife Susan of 38 years; sons Timothy, James, Douglas, and Jonathan; and daughters Christine, Kerrin, Margaret Ann "Meg" and Teri.