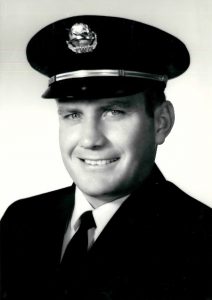 Super Sabre Society member Richard "Bubba" Heinisch, 83, of Kansas City, Missouri, headed west Friday, May 4, 2018, at NorthCare Hospice House. He was born August 7, 1934 in Topeka, KS, to parents Alfred and Rose Heinisch. He attended Hayden High School and St. Benedict's College.
He joined the US Air Force in 1955 and was an F-100 Fighter Pilot who flew combat in Vietnam.  He entered the USAF Aviation Cadet Program June 20, 1955, graduating Sept. 6, 1956. He served as a Navigation Instructor, Ellington AFB, Houston, TX, from 1956-58.
He was a B-47 Navigator/Bombardier stationed at Dyess AFB, Abilene, TX, from 1958-62. He received pilot training at Webb AFB, Big Spring, TX from 1962-63 and was selected to attend the  F-100 Fighter Weapons School, Luke AFB, Phoenix, AZ in 1963. He was a member of the 352nd Tactical Fighter Squadron, Myrtle Beach AFB, South Carolina, 1963-66. And joined TWA in 1966 and flew as an Airline pilot for 23 years.
Richard was a member of the TWA Retired Pilots' Breakfast "Romeos", B-47 Stratojet Assn., 96th Bob Wing Assn., F-100 Super Sabre Society, Jack Daniels "Tennessee Squire", American Legion Post 626, Kansas City Doberman Rescue, TAROA (TWA Active Retired Pilots' Assn., and the Commemorative Air Force (Lifetime Colonel).
Survivors include his wife of 60 years, Barbara; three sons: Doug (Carolyn), Greg (Angela) and David; four grandchildren: Lauren and Jake Heinisch, Geoffrey (Jenny) Holton, Andrew (Christy) Holton; six great-grandchildren; and brother Bob (Carol).
Services were held at St. Patrick Catholic Church, Kansas City, MO on May 15, 2018. His final resting place will be at Leavenworth National Cemetery at a later date. The family wishes to thank the staff at NorthCare Hospice House for taking such loving care of Bubba.