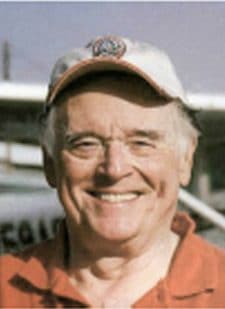 Daryl Hubbard, LtCol USAF (Ret) passed away peacefully on August 29, 2019, after a rough 9 month battle with pancreatic cancer. He flew F-100's with the 36TFS, 615TFS, 612TFS from 1960-67.
Daryl was born in a boarding house on Duck Street in Stillwater, Oklahoma during the dust bowl. It was a hot and dusty summer day on August 27, 1936 when Daryl was born to Alita Winifred Poindexter Hubbard and Dr. Gene Hubbard. Daryl made his transition to heaven on August 29, 2019, leaving the world with the fabulous smile that he had all 83 years of his life. Most of his life he was mistaken for Robert Redford. His strong faith and encouraging personality would go with him in battle later on in life. This came from his deep roots growing up in the Church of Christ in Stillwater.   Daryl was a proud graduate of Stillwater High School Class of 1954. He played trombone in the band and has remained a leader in his Class reunions with his dear High school friends. Daryl received his degree in Chemistry from Oklahoma State University in 1958. He was a proud member of Sigma Alpha Epsilon Fraternity.  He thought he wanted to be a doctor like his father, but realized quickly that his passion would be flying.  Daryl loved America and strongly believed that serving our country was the greatest honor in his life.Daryl joined the Air Force and was on active duty from 1958 to April 1967. He flew 306 combat missions in Viet Nam and 450 combat hours in the F-100. Daryl was in the Oklahoma Air National Guard from 1974 to June 1985.  He flew the T-34, T-28, T-33, F -100-C, D, F models and the last aircraft flown was A-7D Corsair-military.  Civilian aircraft flown: B-707, B-727, Lockheed L-1011, Airbus A-300 and A-310.  Daryl was a pilot for Pan American Airlines out of San Francisco from 1967-1991. Delta Air Lines from 1991 to 2003. Lt. Col. Hubbard was awarded numerous medals but the one he was most proud of was the Distinguished Flying Cross. This medal is for heroism or extraordinary achievement while participating in an aerial flight.  Daryl was active in the German American Society Blaskapelle Band. He also served as President of the Silver Beavers guard retirement group and was a member of First United Methodist Church.
Daryl was preceded in death by his wife Faith Blunt Hubbard, his parents Dr. Gene Hubbard and Mother Winifred Hubbard Tillman. He is survived by his son's Bryan Hubbard (Julie) Seattle, WA and Dr. Bret Hubbard (Rebecca) from Bixby, OK. He is survived by his wife, Rev. Connie Murray Ichord of Tulsa, OK.  He is also survived by his siblings, Dr. Richard Hubbard, Ft. Worth, TX. Patrick Hubbard (Cindy) Kansas City, MO, Dinah Edwards (Gary) Seattle, WA, Angela Lauffenburger (Ken), Dallas, TX and Stephen Tillman (Bonnie) Oklahoma City.  He is also survived by step-daughters, Stephanie Ichord Berg (Alan) Hulbert, OK and Gretchen Ichord Manfredi (Matthew) White Plains, NY. Daryl had 9 granddaughters that were the light of his life. Abigail Hubbard and Bridget Hubbard, Seattle, WA,  Braigen Hubbard, Mikayla Hubbard, Katrina Hubbard, Emilia Hubbard and Annalea Hubbard, Bixby, OK,  Madelene (Maddie) Manfredi and Anna  Manfredi, White Plains, NY.  He is also survived by many nieces and nephews who loved and admired their Uncle D. They were all proud of his military service and always took an opportunity to share about their Uncle Daryl and stories about many of his missions.
We will celebrate the life of this extraordinary hero on Tuesday, September 10th, 10:30 A.M. First United Methodist Church.  He will be laid to rest at Fairlawn Cemetery in Stillwater, OK.
Contributions in Daryl's memory may be made to either The Coffee Bunker: A place for veterans to connect. 6365 E. 41st St. Tulsa, Ok.74135 Att: Elden Hoffman or FUMC Camp Friendship or FUMC Sanctuary Celebrations First United Methodist Church Att:  Jessica Moffatt, 1115 S. Boulder Ave. Tulsa, Ok. 74119
Ninde Brookside, 918-742-5556, www.ninde.com