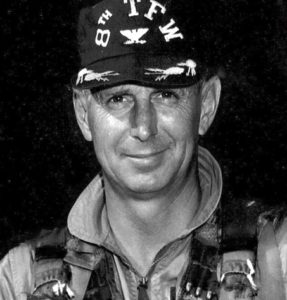 SSS Member David O. Williams (BGen, USAF Ret.) Headed West August 18, 2019. D.O. was a veteran of WWII, Korea, and Vietnam. He flew  P-40, P-47, F-84, F-101, F-10o, F-4, and F-15.
He served in the Organization of the Joint Chiefs of Staff as deputy director for operations at the National Military Command Center.
His last assignment was as chief of staff, U.S. Taiwan Defense Command, with headquarters in Taipei, Taiwan, the Republic of China where he remained until his retirement from the USAF in July of 1976.
His service will be on Friday, Sept 6, 10:00 AM at Cook-Walden Chapel at 9700 Anderson Mill Road, Austin, TX 78750 (Phone 512-335-1155).  His published obituary is at this link.
Interment will be the same day at Fort Sam Houston National Cemetery in San Antonio at 2:30 PM.