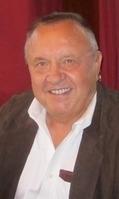 David E. Webb "Headed West" on September 24, 2019.
Dave Webb, age 77, of Maumee, Ohio passed away peacefully on September 24, 2019. He was born on April 27, 1942, in Toledo, Ohio to Eugene and Geraldine Webb who preceded him in death.
Dave is survived by his loving partner, Florence Seger; daughter, Julie; son, Peter (Sharon); as well as his grandchildren, Sophie and Harrison. Dave, the eldest of six children, is also survived by brothers, Thomas Webb (Linda), Allan Webb (Marty) and sisters, Carol Wenberg (Jim), Anita Lamb (Dick) and Kathy Botts. He had many special nieces and nephews. Besides his family, his beloved English Bulldogs, Izzy and Norm, as well as the men and women of Third Street Cigar Smoking Lounge, in Waterville, Ohio, will miss him.
Dave graduated from St. Francis de Sales in 1960. He attended John Carroll University and the University of Toledo. In the fall of 1963, at the age of 21, he entered USAF pilot training through the Ohio Air National Guard. David graduated the following fall and checked out in the F-84F at the Toledo ANG 180TFS.
In January of 1966, Dave began flying for American Airlines and was based in Buffalo, NY. At that time, he transferred to Niagara Falls ANG 136TFS, flying F-100Cs. In January of 1968, his unit was called to active duty for the Pueblo Crisis and subsequently sent to Tuy Hoa, Vietnam, where he flew over 250 combat missions.
David spent thirty-seven years as an airline pilot for American Airlines. He instructed at the American Airlines Flight Academy as a Check Airman for a number of years and was an FAA designee for the 757/767/777 aircraft. As manager of the International Flight Department, in the late nineties, he was responsible for the flying procedures in South America, the North Atlantic and the Pacific. One of the highlights of his career was flying as Captain on Pope John Paul II's flight from Denver to Rome in 1993.
After retiring in the spring of 2002, he built the barge, "Shenandoah", in London and traveled the canals through the wine country of France until the fall of 2011. Upon returning to the US, Dave, along with friends, opened Third Street Cigar Smoking Lounge in Waterville, Ohio.
A celebration of Dave's life was held on Sunday, October 27, 2019.
In lieu of flowers, the family requests checks are made to Flag City Honor Flight, P.O. Box 885, Findlay, Ohio 45839, in honor of David Webb. This organization, which honors military service, provides opportunities for veterans to visit memorials in Washington, DC.
Source: https://www.legacy.com/obituaries/toledoblade/obituary.aspx?n=david-e-webb&pid=194128677&fhid=27565