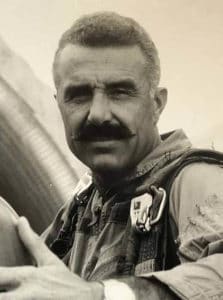 LtCol Henry "Hank" Buttelmann, the youngest Korean War Ace, "Headed West", September 16, 2019
Hank Buttelmann was the 2nd to last living American Ace of the Korean War. He is credited with 7 MiG shoot downs during June and July of 1953.
Hank's wife says he "died peacefully" after battling dementia for several years". Hank and his wife Audrey had been living in Frankfort, IL.
Hank flew F-100's on 232 combat missions with the 308th Tactical Fighter Squadron as "Misty 144" and a Commander of the squadron. He had previously flown F-86's with the 25th Fighter Interceptor Squadron in Korea for 64 combat missions and F-105's with the 562nd Tactical Fighter Squadron in 46 combat missions in Vietnam.
He was known as a humble person and a great person and will be missed.
A memorial service has been set for Oct. 11 at the Abraham Lincoln National Cemetery in Elwood, Illinois.