Donald Harold Volz "Headed West" on September 30, 2020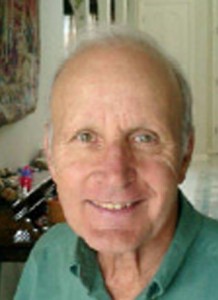 Donald Harold Volz lived a wonderful life!! As a pilot, he would tell you that he "headed West" at the age of 87 on September 30, 2020. The numbers will say 1/2/1933-9/30/2020. But those numbers are just that….numbers. What matters most is that little dash between the numbers. And that dash was filled with love, family, community, and a lifetime of adventures!
We all know that 2020 is a strange year, and in a strange year, we do strange things! If this was 2019, we would have had a lovely memorial service and all of our family and friends would have flown in or driven in, and we would have shared time together, shared stories together, and you all would have had the great "pleasure" of hearing long-winded eulogies given by his three children (and possibly others) talking about his life, his loves, his accomplishments and all the wonderful things he did for ALL of us!! But in 2020, that is not possible! So, instead, we are writing that eulogy, and you are reading it here, in The Ventura County Star!
Don was born as the only child of his parents, Harold and Lorena (Spring) Volz on Jan. 2, 1933, in Detroit, MI. When he was three years old, his family moved to Saginaw, MI, where he spent the rest of his childhood. While in high school, Don ran track, and played a little football, and a lot of baseball! It was here that he began his lifelong goal of healthy eating and staying physically fit!
After graduation in 1951 from Arthur Hill High School in Saginaw, Don went on to college at Michigan State College (later Michigan State University). He pledged the Alpha Tau Omega fraternity, and he joined The Air Force ROTC. Eventually, he was asked to take the physical for flight training. In four years he earned his Bachelor of Science Degree in Mechanical Engineering.
In his last semester of his senior year in 1955, just before graduation, he was set up on a blind date with a young freshman gal named Kay Sweet who lived at home near the college. In Dad's own words, it was "love at first sight!!" Ironically, Kay was supposed to go out with one of Don's fraternity brothers, and Don was set up with a friend of Kay's. But both dates canceled, so they were asked to "fill in." They didn't know each other, but they reluctantly agreed. Again in Don's words, "what a fortunate occurrence!!"
In September 1955, Don accepted a job at North American Aviation Co. in Downey, CA, prior to entering Pilot Training eight months later. He was leaving Michigan, and even though he really liked Kay, he figured he'd check out the "singles scene" in California, and visit Kay when he came back to Michigan to visit his parents for the holidays. Well, a few weeks later he realized he wasn't into the "singles scene" and called Kay and asked her to come for a visit. Somehow, her parents agreed, and she came for a visit in October. They talked about getting married 18 months later after Don got his wings. But as the day was approaching for Kay to fly back home to Michigan, Don knew he didn't want her to leave. So he proposed and suggested that they get married "on Saturday" in Las Vegas, NV. So on November 12, 1955, they became Mr. and Mrs. Don Volz, and began what would be an amazing 65 years of love and marriage, filled with three children, eight grandchildren and a world of travel!
Don had orders to report to Lackland Air Force Base in San Antonio, TX in April 1956. This was the first of many bases, which included Marianna, FL, Laredo, TX (where he received his wings!), Nellis AFB in Las Vegas, NV, and Reno, NV.
In April 1958, Don was transferred to Hahn AFB in Germany ….so off they went, with their first Weimaraner puppy Schoen. Here, he was a member of the 461st Fighter Day Squadron (known as the Deadly Jesters!) flying the F-100C….aka the Super Sabres. They rented a room from a sweet lady who didn't appreciate any of Don's occasional flybys!! In July 1959, the 461st Fighter Day Squadron was disbanded and he was transferred to the 22nd Tactical Fighter Squadron at Bitburg AFB in Bitburg, Germany, but he was always a member of the 461st and the Deadly Jesters at heart!
In June of 1959, their first daughter, Susan Lynn was born, at approximately the same time Don hit a bullseye (Shock)! Lots of flying escapades followed–some of which are quite reminiscent of scenes from the movie, "Top Gun." On a Halloween Night in 1960, their second daughter, Kathy Ann was born. While stationed in Germany, Don and Kay traveled all over Europe, including trips to England, France, and Denmark! In March of 1961, they were transferred again, and Don became an engineering project officer at McClellan AFB in Sacramento, CA.
Don and Kay lived on the Air Force base in Sacramento, and in September of 1962, they welcomed John Carl into the family. The family was now complete.
In 1966, Don decided to leave the Air Force and seek a job with the airlines. Always being determined to control his own destiny, Don was up at 4:00 am with his resignation papers in hand and sat out in front of the headquarters. He knew that if he was given his transfer papers before he submitted his resignation, he would have to go. As he saw the secretary arriving, he rushed to her and gave her the resignation before she could utter a word. It was done.
He was soon hired by American Airlines. During Don's American Airlines training time, Kay and the kids moved to Michigan to stay with Kay's sister Joyce and her family, and live on their family farm!! This began what would become our home-away-from-home as we traveled to visit our cousins, Lynn and Chris several times every year! Through the pilot's grapevine, Don had heard from his friends that there was a gorgeous little town called Thousand Oaks just north of Los Angeles. The pilots knew of it because they would fly over the community as they headed out from LAX to parts unknown, and they'd notice where the Los Angeles smog of the 1960's disappeared. In fact, this area was often referred to as "Thousand Pilots", because so many pilots lived here! In 1966, Don moved the family to a lovely home on Dena Drive in Newbury Park.
During this time, Don continued to play tennis and softball, and golf while he was home between flights. Another Weimaraner named Duke joined the family, as well as a cat named Puff. After three years with great neighbors and friends in Newbury Park, Don and Kay made the move to Thousand Oaks on Sidlee Street in the summer of 1969. A Dalmatian named Pepper joined the family in Thousand Oaks. Several years later, a Cocker Spaniel / Pekingese puppy was left on Don and Kay's doorstep in a box, and Taffy also joined the family.
Always a dog-lover, Don was a magnet for lost or neglected pups in the area. The dogs would arrive on the doorstep and he would work tirelessly to find their owner. If he was not successful, he would drive with the family down Potrero Road to a woman living in Hidden Valley by the name of Mrs. French. She would take in the animal to live out their life on her sprawling property.
Don and Kay shared their love for a few specific musical groups with their kids!! We remember when they attended Neil Diamond's "Hot August Night" concert at the Greek Theatre on August 24, 1972. After that, we were ALL huge fans and went together to his concerts many times! Around the same time, while on a ski trip with cousins we discovered John Denver! Many years later, Don and Kay discovered a musical called "Les Miserables." They shared with us the music and the lyrics and later took us all to see it in Los Angeles. Thanks, Dad and Mom for sharing your music with us!
Don devoted his free time to many selfless projects and endeavors. He coached most of John's sports teams. He was the president of the Conejo Valley Little League for several years, even after John stopped playing. When Kathy was excelling in gymnastics, and there was no local Gymnastics studio, he and Kay single-handedly created the Monarch's National Gymnastics Training Center in Westlake Village. Who does that for their child?
Don even took up rollerblading in the '80s. He would take his roller blades on his flights to cities like New York, Boston, and Cincinnati, and would skate through the city on his layovers. John recalls one such trip to New York City around 1990, where they spent the day skating through Central Park. On the way back to the hotel, John watched as his Dad navigated the city by grabbing onto taxis and busses to propel him through the streets. It was quite amazing to see.
He was a long-time season ticket holder at Dodger Stadium, which gave him such joy. At the age of 60, John began playing in a 30 and over men's baseball league (MSBL). Being new to the league, John started his own team and drafted Don as his first baseman. After several years playing with John, Don joined the Dodgertown league in Los Angeles, where he played baseball every year through age 75. We are talking hardball baseball with metal cleats, proper uniforms, and umpires. Don was a great player and was much loved and respected by his teammates.
Don was an early advocate for slow, responsible growth in his beloved Conejo Valley. A regular contributor to the then local paper, The News Chronicle, Don and editor Marvin Sosna would engage in heady debate on a number of topics. He was a regular attendee at the City Council meetings often requesting time at the podium.
He was an enthusiastic advocate and organizer of the merger between Timber School District and Valley Oaks Union School District, including Thousand Oaks High School and Newbury Park High School which were formerly part of the Oxnard Union High School District. In 1974 the Conejo Valley Unified School District (CVUSD) emerged to better oversee and manage the education of the local youth. He ran for School Board in 1975. An avid tennis player and swimmer, he served as President of the neighborhood Horizon View Club and worked tirelessly to keep it shipshape.
As he approached his 60th birthday, the rules of the FAA required him to retire. He complained and bellyached to anyone who would listen. However, since the day after his 60th birthday, no one ever heard him complain! He and his loving wife Kay expanded their travel and he continued in his role as "Best Grandpa Ever" attending all their grandchildren's extracurricular activities and sports.
In his late 60's Don began exhibiting some physical effects of Parkinson's Disease. According to his doctors, his lifelong commitment to physical fitness and being an early adopter of healthy food and healthy living allowed the degenerative side effects to progress slowly. After suffering for over 20 years he sought relief and resolve. He learned of the existence of the End Of Life Options Act (EOLOA) in California. Don desired to take the same can-do attitude that he had lived in ending his life with dignity. After months of counsel with his medical team and his family, Don bravely chose the day he would enter into eternity. At last, he would be at peace!
It was his wish to share the EOLOA in California as part of his obituary. His hope was that this information might help to inform and educate others who are suffering from a similar end-of-life illness.
Don is survived by his loving and adoring wife of 65 years, Kay Sweet Volz; children Susan Volz Peters (Randy Peters), Paso Robles, Kathy Volz (Victor Feathers), Lake Sherwood, John Volz (Fiona Whitney), Los Angeles; grandchildren Marie Peters, San Luis Obispo, John Peters, St. Louis, MO, Sarah Peters (Dom Hennessey) Washington D.C., Ani Mardirossian (Max Michalski), Los Angeles, Nora Mardirossian (Paloma Munoz Quick), Brooklyn, NY, Chloe Volz (Connor Foss), Manhattan Beach, Sam Volz, Los Angeles, and Kevin Mardirossian, Pacific Palisades.
*In lieu of flowers, donations can be made to Conejo Valley Schools Foundation at conejoschools.org.
Published in Ventura County Star from Oct. 6 to Oct. 8, 2020.