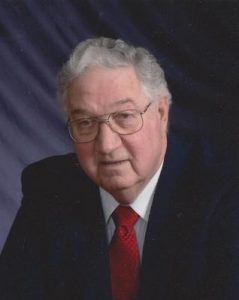 Lt. Col Donald L. Abbott, USAF (Ret) Headed West October 16, 2017.  Don was born November 23, 1932 to Gerald L. and Bertha M. (Roberts) Abbott of Maple Rapids.
Don graduated from USAF Pilot training class 54F (1964) and was selected to fly USAF Fighters. He served over 20 years before his retirement in 1977. He was a member and past president of many military organizations including the Air Force Association, the Military Officers Association of America, the Military Officers of Foreign Wars, the F86 Sabre Pilots Association and the Super Sabre Society (F100). He loved reunions with his flying buddies.
Don graduated from Michigan State University with both B.S. and M.S. degrees and served as a Lecturer at the MSU School of Packaging where he taught the Introduction to Packaging Course. He is remembered by his students for his many jokes, examples, and stories in class some of which featured the foibles of his children. He was an avid State fan who enjoyed both basketball and football, but mostly football.
He maintained an extensive network of friends through his involvement in military organizations, the First United Methodist Church of Grand Ledge, many church groups, and the Masonic Lodge of Carson City.
Don was a partner in an equal opportunity kitchen and widely known for his beef barley soup, baked beans, homemade bread, and monster oatmeal cookies which he was always willing to share. He was a gentleman farmer who provided Thanksgiving turkeys each year. He enjoyed quietly entertaining everyone with his jokes and stories. In later life, he printed business cards that read: "Air wars fought, War stories fabricated, Professional packaging faked." Pleasant, kind, loving, inspiring, warm, and loyal; he championed others and inspired many.
Don is survived by his wife of fifty-nine years Marjorie A. (Gilger) Abbott; two sons, Dr. Kenneth L. (Shirley) Abbott and Gary S. (Ruth) Abbott, and one daughter Cathleen A. Abbott; two grandsons, Christopher M. Abbott and Stephen M. Abbott; one sister, Lucille Paine; and one brother, Richard Abbott.
He was predeceased by his parents, two brothers Leslie and Rodney and two sisters Paulene Lowe and Doris Abbott.