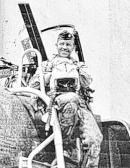 Durward "Doug" Kempten Priester, 93, of Yonges Island, SC, died on October 29, 2023. Born on October 10, 1930, in Savannah, Georgia, Doug grew up in Hampton, SC, the son of William H. Priester and Maime Fennel Priester.
While attending Clemson University, he entered the Air Force in 1951 and was selected for pilot training. He flew the F86, F100 and the F4-C Phantom. During his military career, he served overseas at Misawa, Japan, DaNang, Vietnam and Ramstein, Germany and at Air Force Bases in the US at Turner, GA, Myrtle Beach, SC, Maxwell, AL, MacDill, FL, Holloman, NM, England, LA, Langley, VA and Nellis, NV, where he retired after 32 years as a full Colonel.
After retirement, Doug and Claire moved to Saudi Arabia with McDonnell Douglas and traveled the world. He was awarded the Silver Star for valor and gallantry in action in Vietnam.
He is survived by his wife of 65 years, Claire Connelly Priester, daughters, Michelle and Becky, his two Cairn Terriers, Harry and Maggie, Dan (Sally and David) Connelly, Mike (April) Connelly, Julie (Mike) Tindal, Jenny (Harley) Lee, Allison (Ray) Churchill, Susan (John) Howard
Col. Priester will be laid to rest with military honors in the National Cemetery in Beaufort. Memorials may be made to Doug's favorite charities the at lowcountryfoodbank.org or water.mission org.
(Edited from obituary – Published by Charleston Post & Courier Oct. 29 to Oct. 30, 2023)