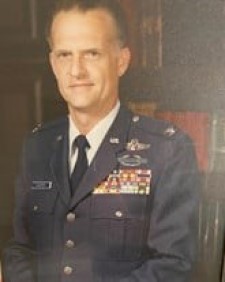 Colonel Robert H. Custer, USAF Retired, was born on May 15, 1933 in Pasadena, California to Ruth (Weesner) and Harold Custer, both of Indiana. He passed away with his family by his side on May 7, 2023 in Redlands, California.
Robert joined the US Army in 1952, was in the Arizona Air National Guard from 1955-1961 and the US Air Force from 1963 to 1984, from which he retired and he also served as Base Commander of Norton Air Force Base in San Bernardino from 1982-1984. He graduated Troy State University with a Bachelor of Science Degree. He was a well decorated Army soldier and Air Force Officer.
He was a member of the Redlands Elks, F86 Pilots Association and MOAA Daedalians.
He was preceded in death by his parents, his first wife Carol and his daughter Michelle. He will be forever missed by his wife Kay; surviving children: Bradley Custer and his spouse Mary, Mary Webb, Rhea Caldwell and spouse WIllie and Rick Pence and spouse Vida; brother Don Custer and his spouse Jenny of Utah; 8 grandchildren and 18 great grandchildren.
A service with military honors was held at Riverside National Cemetery on May 16, 2023.
Source: https://www.legacy.com/us/obituaries/name/robert-custer-obituary?id=51841921