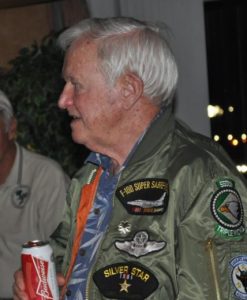 Charter Super Saber Society member Elmer Slavey headed west January 12th, 2017. Elmer was a highly respected and decorated F-100 pilot with the Silver Star, 3 Distinguished Flying Crosses and 34 Air Medals to his credit.
He is Survived by his wife Charlene.  Services for Elmer are currently being planned by Charlene and other members of the family.
Elmer was born Friday, 13 January 1933, in Jeffersonville, Indiana and enlisted U.S. Air Force after High School in 1952 as an Aviation Cadet, training in PA 18, T-6, T28, and T33 aircraft. He earned his Pilot Wings and was Commissioned in Big Springs Texas in 1954 and assigned to Combat Crew Training Nellis, Las Vegas, F-86s and later Clovis, NM, and Bitburg, Germany, also in the Sabre Jet. From 1955-57 Elmer was our ambassador fighter pilot in Etain, France, flying F86s with the 563rd TFS.
His F-100 check out was in 1957 at England AFB, Alexandria, LA. There he flew with the 612th TFS, 614th TFS, and 613th TFS, with two six-month TDY tours to Aviano Air Base, Italy. In 1963, Elmer headed to Clovis NM in the 430th TFS, with two six-month TDY tours to Misawa, Japan, and next to Luke AFB, Phoenix, AZ, 4514th CCTS, followed by Phan Rang AFB, Vietnam, 352nd TFS in 1967 and as an early F-100F Misty pilot (Misty 39) at Phu Cat AB, Vietnam.
Elmer headed home later in 1968 to Clovis: 522nd TFS, 4429th CCTS and bailed to Davis Monthan to check out in F-4s in the 433rd TFS, and in 1972, once again was in the heat of combat at Udorn, Thailand, in the 555th TFS. 
Not a peace-time tempered fighter pilot,  Elmer headed to Luke AFB and retired in 1972 as a Lieutenant Colonel. He is highly respected and admired by his fellow warfighters and friends.
 Elmer had a Facebook page.