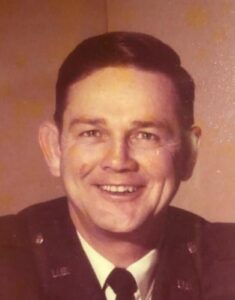 Brigadier General Garry A Willard, Jr, USAF (ret), peacefully passed away Thursday, Sept. 28, 2023, of natural causes. He was 95.
Born in Utica, NY, on May 10th, 1928, he was the son of Garry A and Mary S. Willard of Manassas, VA, and the husband of the late Gladys F. Willard of FWB, FL.
Gen. Willard served with distinction throughout his military career, beginning as an enlisted man in the US Army. He was an infantryman in the Korean Occupation in 1946. Pursuing his dream of flying, he joined the US Air Force in 1948 as an aviation cadet and earned his pilot wings and commission as a Second Lt. in September 1949. Relieved of active duty in May 1950, he served with the 138th Fighter Squadron New York Air National Guard until March 1952, when he was recalled to active duty.
His flying career spanned the Korean and Vietnam conflicts. He flew 100 missions in Korea, and was commander of the first F-100 Wild Weasel Squadron, flying over 100 missions and 250 combat hours in Southeast Asia. He flew more than 30 different aircraft and had over 5,800 service flying hours.
Promoted to Brigadier General in 1973, he eventually served as Director of Aerospace Safety, Air Force Inspection and Safety Center. He retired 1980.
Over the years, he was the recipient of numerous awards. Gen. Willard attained a high level of education and had numerous degrees, graduating from Syracuse University, the National War College and George Washington University. He held a master's degree in International Studies. He also managed to eke out a year as a circulation manager for a Syracuse newspaper.
Upon retirement, he worked in the Middle East and Africa, until his wife Gladys suffered a stroke. He cared for her 21 years until her death, and made certain to include her in all events, traveling together in his Piper Cub; to weddings & birthdays & visiting relatives, whatever adventure called them, and always with love and jest and lots of laughter.
Garry, often called "the Wiz," was a modest man with a sense of humor bordering on the comic. He had wonderful recall for names and faces and it seemed that no matter where he went, there was always someone he knew. He believed implicitly that "Everyday is a wonderful day!" He will be sorely missed.
He is survived by his children, Garry A Willard, III and wife, Sharon, of Raleigh, NC. Daughter Carolyn W. Montgomery (Jerry), of Los Angeles, CA and Jackson Hole, WY. Son James D Willard, and wife Kay of Dallas, GA. And daughter Catherine (Casey) Brooks (Jeffery) of Crestview & Westville, FL. Sisters Nancy Willard Chang of Spotsylvania, VA,and Mary B. Morrow of Dennis, MA. He had thirteen grandchildren and 17 great-grandchildren.
Burial was on Tuesday, October 3rd, 2023, at Barrancas National Cemetery, Pensacola NAS.
Guest book and condolences are available online at www.whitehurstpowellfuneralhome.com
Obituary published on Legacy.com by Whitehurst Powell Funeral Home on Oct. 3, 2023. (Obit edited for accuracy)