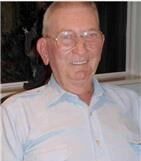 Patrick Swenson, 88, died at home in Highlands Ranch, Colorado, on June 13, 2023, from emphysema. He was born February 24, 1935, to Agnes and Kaler Swenson in Turner, Montana.
He was preceded in death by his beloved wife of 61 years, Billie Swenson (Jones), parents, and brothers Martin and Lester. Patrick is survived by his children Peter (Maria) Swenson and Suzi (Randy) Mishmash, grandsons Nicholas and Jacob Swenson, granddaughters Elise and Paige Mishmash, sister, Rosemary Swenson (Todd), sister-in-law Sylvia Swenson, special niece, Deborah Greene, and nephew Adam Greene.
Upon graduation from high school in Marshfield, Missouri, Pat joined the Air Force. On a trip home he encountered the love of his life, Billie Jones, at the soda fountain, and they were married August 17, 1958.
He retired after 20 years of traveling the world, seeing combat in Vietnam, and generally enjoying speeding around the skies in F-100s. He regaled friends with stories of buzzing control towers and being reprimanded for "sneaking" his wife into Italy by dying her very blond hair jet black in hopes she wouldn't be recognized.
After retiring, Pat moved his family to Golden, Colorado, where he pursued various business interests and honed his golf game. He and Billie traveled the world together and Pat played golf courses from Scotland to Costa Rica, frequently accompanied by his crazy brother-in-law Rich. Settling up after the game was always the best part of the day.
His grandchildren were the apple of his eye and Pat was lucky to spend many hours with them in Golden. Pat and Billie loved visiting Salida to see their granddaughters, spending many Thanksgivings eating too much and watching the parade of lights.
In 2017 he moved from Golden to Windcrest Retirement Community in Highlands Ranch where he cared with much love for his wife as her health declined. Pat found comradery with his breakfast club where conversations usually included a lot of good-natured teasing and talk about airplanes.
Patrick is buried at Fort Logan Cemetery.
Published by Colorado Community Media on Jun. 29, 2023.