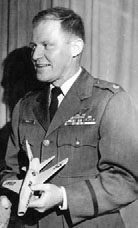 SSS member Colonel George Wilmer Dooley Jr, 89 headed west on Friday, June 30, 2017, at home and surrounded by family. He was preceded in death by his wife of 61 years, Jane Baker Dooley. Born and raised in Lynchburg, VA.  His childhood dream was to fly jet fighters and in 1949.  He received a commission as a Lieutenant in the U.S. Air Force after graduating from the Virginia Military Institute. By 1954, George had served in the Korean War and then flew in Vietnam, South Korea, Turkey, and Italy. George flew, F-86's and F-100's and was a highly regarded Instructor Pilot.  He last flying assignment was as the 353rd Tac Fighter Commander at Torrejon AFB, and is fondly remembered by many Super Sabre Society members.
George loved Spain and fell in and enjoyed touring Europe with his wife and daughters. He felt fortunate to serve his country and was hugely respected by his colleagues as a firm and fair leader, and a compassionate friend. He retired in 1973 as Colonel and returned to Lynchburg. Inheriting his parents' home George played a crucial role in establishing the Diamond Hill Historical Society and advancing the revival of that historic district.
Over the years he served on the Historic Preservation Commission and on the Board of the Lynchburg Historical Foundation. He also served on various other community related non-profit Boards of Directors and served as Senior Warden at St. Paul's Episcopal Church. He remained active within the VMI community, attending football games and reunions through 2016. Family, the church, community, and country were George's passions.
George was a loving husband and father, as well as a steadfast friend to many. At the age of 89, he felt he had lived a long and full life, had always found great strength in his faith in God and was at peace.
A service was held July 15, 2017, at St. Paul's Episcopal Church and a reception at the family home. In lieu of flowers, please send donations to the Virginia Military Institute.