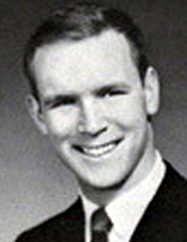 U.S. Air Force Reserve Captain Joseph Smith has now been accounted for.
On April 4, 1971, 1st Lt Smith was the pilot of a single-seat F-100D aircraft as the leader in a flight of two aircraft on a combat mission over Cambodia.
While making a pass over the target, the pilot of the other aircraft noted white vapor streaming from the left wing of Smith's aircraft. Smith's aircraft crashed a half mile from the target. The other pilot reported that he did not see any ejection from Smith's aircraft and no beepers were heard. The following day, an aerial search revealed aircraft wreckage over a large area, however, no remains were observed. Due to intense enemy activity in the area, ground forces could not attempt a recovery operation. He was declared missing in action as of April 4, 1971.
U.S. and Kingdom of Cambodia teams, with the assistance of the U.S. Embassy's POW/MIA specialists, investigated the loss from 1996 until 2016. His remains were still with the wreckage of his F-100, which was shot down in Cambodia on April 4, 1971, and were positively identified using DNA and laboratory analysis in May 2017.
Captain Smith's services will be held at Saint Mary's Catholic Church in his home town of Assumption, Illinois on July 17th at 10 AM.
IN MEMORIAM:
SMITH, JOSEPH STANLEY
Remains Identified – June 2017
Branch/Rank: Capt, USAF
Unit: 612th TFS
Date of Birth: 07 May 1945
Home City of Record: ASSUMPTION IL
Date of Loss: 04 April 1971
Country of Loss: Cambodia
Loss Coordinates: 123257 North  1051757 East
Status (in 1973): Killed In Action/Body Not Recovered
Aircraft/Vehicle/Ground: F100D #5631
Source: Compiled by P.O.W. NETWORK
REMARKS: CACCF/CRASH/PILOT/POSTHUMOUS PROMOTION
Links to associated sites:
Https://www.honorstates.org/index.php?id=321740
https://www.abmc.gov/node/512125#.WVPArWgrLb0
https://www.findagrave.com/cgi-bin/fg.cgi?page=gr&GRid=60006873