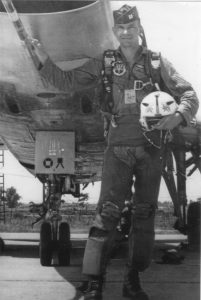 Virginia (Gini) Wagner wrote to tell us of the passing of her husband, Paul E. Wagner on June 1, 2017.
From an early age, Paul loved airplanes and would seek rides whenever he could. His ambition was to fly – especially fighters. He attended Earlham College in Richmond, IN for a year, then transferred to Washington State University in Pullman, WA. He majored in Agricultural Engineering and enrolled in ROTC. He received his diploma and commission in 1955 and then married his college sweetheart, Gini.
He entered the Air Force in October 1955, serving 27 years. His assignments included: Webb AFB in Big Springs, TX as a student pilot and instructor in T-33's, Amarillo Tech Training Center; Misawa AFB in Misawa, Japan; England AFB, Alexandria, LA flying F-100's; Bien Hoa, Vietnam flying F-100's, Woodbridge Air Base in Woodbridge, England flying F-100's, Laughlin AFB, Del Rio, TX, as instructor in T-37s; Incirlik Air Base in Adana, Turkey as Deputy Director of Operations; Keesler Technical Training in Biloxi, MS with Airborne Command and Control Center; McClellan AFB in Sacramento, CA with the 2nd Air Delivery Group.
Paul retired there in July 1982 as a LtCol. His awards included The Distinguished Flying Cross, Meritorious Service Medal with One Oak Leaf Cluster, The Air Medal with Nine Oak Leaf Clusters, and the Air Force Commendation Medal with Two Oak Leaf Clusters. Paul was a member of the Military Officers of America Association and Daedalian, a military pilots association.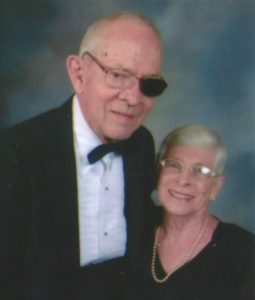 Paul and Virginia had four sons. The family accompanied Paul on all assignments with the exception of Vietnam. Paul was a loving husband and father; a gentle man. He helped all his boys become Eagle Scouts, took them snow skiing and bought boats for water skiing. They all learned how to fix cars, do home repairs, carpentry, and lawn and garden care. Paul was also interested in music and sang in choirs and choruses, many of them directed by his wife.
After retiring from the Air Force, he earned two masters degrees and worked as a Financial Planner for seven years. He also flew for a small charter company in Sacramento. In 1989, Paul and Virginia moved to Twisp, WA to his family home. In the Methow Valley, Paul became the official volunteer airport manager for the Twisp airport. During his tenure, the dirt runway was paved and received lights. He bought a Cessna 210, which he chartered, and flew with the Forest Service.
Paul was diagnosed with Parkinson's Disease in 2005 and had to stop flying in 2006, as the Parkinson's progressed. In 2012, he and Gini moved to Huntsville AL, to be near family.
Paul is survived by his wife, Gini; his 4 sons, 10 grandchildren, and 6 great-grandchildren. He will be buried in Beaver Creek Cemetery near Twisp, WA in late August 2017.