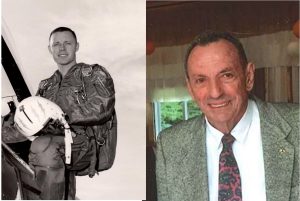 A fellow F-100 fighter pilot who friends say had a smile that touched his eyes, headed west on May 20, 2017. Those who knew Paul say he wished his family and friends a fond farewell. Paul Phillips was born in Royal Oak Township, Michigan on June 11, 1932. His parents Paul Phillips and Marion Swan Phillips, immigrated from Macedonia and Scotland respectively.
Paul grew up in Birmingham, Michigan, and graduated from Michigan State University with a degree in Business Administration. He joined the Air Force and flew the top USAF fighter, in 1957 the F-100. He flew combat missions with the 481st Tactical Fighter Squadron  during two tours in Vietnam.When the North Vietnamese left Plei Me and Pleiku, they moved west and the 481st again supported ground troops in the battle that developed in the
Ia Drang Valley
. While deployed to Vietnam, the 481st aircraft had green triangles painted on the tails which allowed the
Forward Air Controllers
to easily identify the F-100s they were controlling as being part of the 481st. Many of the planes had personal names and pictures painted on including "The Shadow", "Lickity Split", "Pretty Penny", "Why Not?", "The Mormon Meteor", "The Back Forty", "Mr. Magoo", "Hot Stuff", "Casanova", "Snoopy", "My Little Margie" and several others.
Paul and his fellow F-100s and their assigned aircraft that deployed to Vietnam are listed below:
| Aircraft Tail Number | Pilot |
| --- | --- |
| 0-53604 | Lt. Col. Harold E. Comstock |
| 0-53613* | Capt. Charles Summers |
| 63504 | Capt. Thales "Tad" Derrick |
| 0-52837* | 1st Lt. Peter Vanderhoef |
| 63074* | Capt. William Kenty |
| 63063 | Capt. Stephen "Chad" Dvorchak |
| 63056 | Lt. Col. David Williams |
| 0-53548 | 1st Lt. Thomas Tilghman |
| 0-52795* | Capt. Norman Turner |
| 0-42177* | 1st Lt. Jimmy Kempton |
| 0-53569 | Capt. William Carrothers |
| 0-53603 | Capt. Joseph Reyness |
| 63100 | Capt. Robert Barry |
| 0-53528 | Capt. Douglas Young |
| 0-53622 | Capt. Alvord Anderson III |
| 63040 | 1st Lt. Dale Sprotberry |
| 0-53559 | Capt. Paul Phillips |
| 0-23549 | 1st Lt. Donald Watson |
* Indicates aircraft that were shot down on combat missions. A replacement aircraft, tail number 63334 was also shot down.
After retirement Paul settled in Phoenix where he sold and managed property with Realty Executives. He also helped to establish St. Peter's Episcopal Church where he served as Jr. Warden and later Sr. Warden. He is survived by his daughters, Kristin Phillips and Heather Sexton (Martin), 2 grandchildren, Jordan Sexton (Jeff) Ziegler and Lt. Kieran Sexton, and former wife Peggy Phillips Kimball, several godchildren and many close friends.
Paul Phillips loved his family and friends, sharing stories over a glass of wine and helping those in need. He will be greatly missed by all who knew him. Visitations and Funeral Service were completed Wednesday, May 24, 2017 at Whitney & Murphy Funeral Home, 4800 E. Indian School Road, Phoenix.