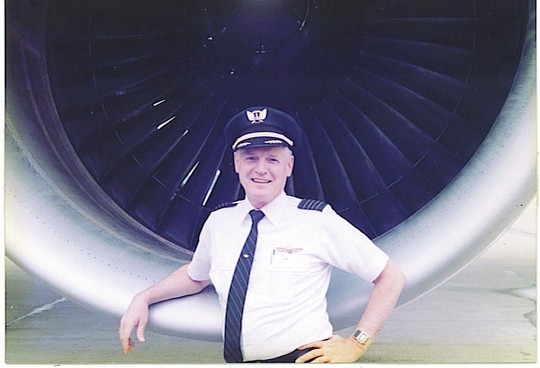 Gerald Dean (Jerry) Grimmonpre' was born in Marshalltown, IA on Jan 11th, 1935 and passed away on Saturday, April 1, 2017 at Franklin Woods Hospital, Johnson City, TN following a short illness. Jerry began his flying career with the US Air Force where he spent 9 years flying many aircraft including his favorite the F-100.  Jerry was a member of the Super Sabre Society. After the Air Force, he took his skills to United Airlines.
He was highly regarded throughout United Airlines for both his skill as a pilot as well as his wit. He entertained passengers and crew on many flights over 32 years.  During his long career with United Airlines and the US Air Force he flew in excess of 30,000 hours on almost all of United's aircraft as well as the F-84, F-86 and F-100 fighters. He retired as captain on the Pacific route on the 747-400.  Jerry could fix anything, do anything and knew everything!  He loved the challenge of planning projects and was known to enjoy the planning much more than the execution phase. In his 30s Jerry went back to college (De Paul University Chicago) where he earned his BS in Business Administration.
Jerry was a member of the United Flying Octogenarians, as well as a life time member of EAA since 1990 and was an active member of the EAA chapter 1355 in Greeneville, TN.   Following retirement, Jerry continued flying his own RV-4 out of The Landings Airport in Huntley IL.  In 2012 he relocated from Del Webb Sun City, Huntley, IL to Hensley Airpark in Chuckey, TN where he built his dream home with an attached hangar.  Each day he could be found working on projects in his hangar workshop and preparing for the next flight.
Surviving to honor Jerry's memory are his loving wife Anne (Monahan-Ricki), his three loving children from his previous marriage to Sharon (Hall) Grimmonpre', son Mark (Fort Walton Beach), daughter Lisa Palmer (Stuart) Hillsboro Beach, and son Gary (Kathryn) Huntley, IL.  He is also survived by his step-daughter Stephanie (Jason) Graham, Fredericksburg VA, seven  grandchildren Kendall and Kyle Grimmonpre', Andrew and Missy Moise, Jennifer Houser, Rebecca Brown and Holly Grimmonpre' as well as three great-grandchildren John Ryan Brown, Emma Houser and Haven Grimmonpre' and two step-grandchildren Evelyn and Mirabel Graham.  He is preceded in death by his parents Tony and Emma (Good) Grimmonpre' and five sisters. Arrangements will be carried out by Jeffers Funeral Home, Greenville, TN.  No memorial service planned.