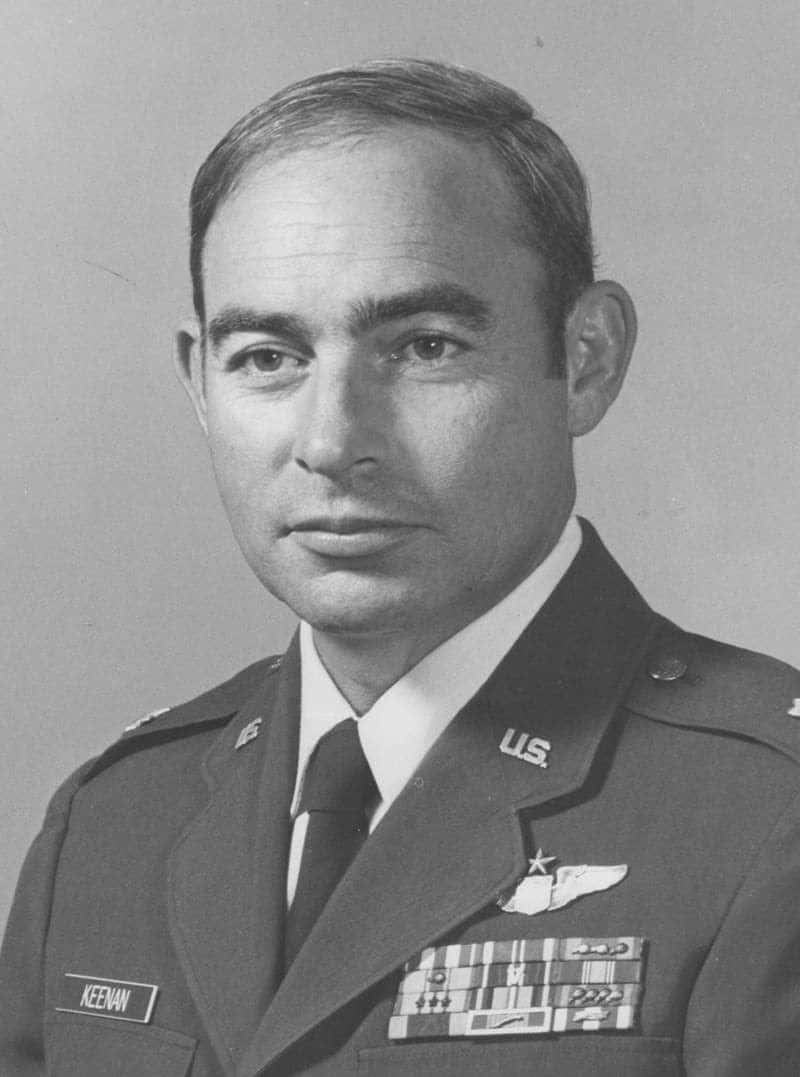 William Vincent Keenan Jr. LtCol (USAF) Ret., 78, beloved husband of the late Margaret F. Keenan, Headed west on Tuesday, April 18, 2017, at Munroe Regional Medical Center, Ocala, FL.
Born on Aug. 18, 1938, in Brooklyn, New York, he was a son of the late William Vincent Keenan Sr. and Gertrude Jennings Keenan. Bill graduated from the U.S. Air Force Academy on June 5, 1963. Bill and Margaret were married on June 8, 1963, and began their journey through life together. Shortly after his marriage, Bill received his U.S. Air Force orders and reported for pilot training. Bill served in many different capacities in the Air Force to include being a pilot, instructor, advisor, operations director and chief of operations.
While in the Air Force, Bill was stationed and served at numerous locations to include Webb Air Force Base, Myrtle Beach Air Force Base, Vietnam, Naval Air Station Jacksonville, England Air Force Base, Puerto Rico Air National Guard, Korea, and Shaw Air Force Base. Bill retired from the Air Force in June of 1991 as a lieutenant colonel. Following his retirement from the Air Force, Bill became a government contractor and consultant. He worked with and advised many divisions of the armed forces.
Bill's professional accomplishments were surpassed only by his dedication to his loving wife, Margaret, and his family. Bill was the proud father of four children, eight grandchildren, and seven great-grandchildren. Bill and Margaret opened their hearts, family, and home to eight foreign exchange students to help them learn and grow in a new and caring environment and three foster children to help them form new and rewarding relationships.
Bill was an active member of the Catholic community in many different locations while he served in the Air Force. He was a member of St. Jude Catholic Church in Sumter. In addition, he was also a member of the Knights of Columbus. Bill served at the local, district and state levels and held numerous positions from Grand Knight, District Deputy, and State Deputy.
Surviving are four children, William V. Keenan III of Guantanamo Bay, Cuba, Mary Louise Cardinale of Graham, North Carolina, Elizabeth Ann Cato of Ocala and Richard Scott Keenan of Atlanta; eight grandchildren, Stacey Stapleton, Bradley Keenan, Caroline Cardinale, Victoria Cardinale, Charles Hert, Scott Hert, Kaleigh Cato and Sydney Keenan; and eight great-grandchildren.
A Mass and Christian Burial at St. Jude Catholic Church followed with Interment at St. Lawrence Catholic Cemetery.