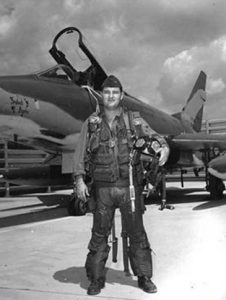 Howard "Tick" Loitwood "Headed West" on March 14, 2020.
Howard Sutton Loitwood, Jr. (Tick) 81, died March 14, 2020, in Youngstown, Ohio. He was born on Jan. 25, 1939, to Howard S. and Kathryn Reichenbach Loitwood. Howard attended Gettysburg High School and South Dakota State University. During summers of his college years, he worked for the Smithsonian on digs with the Archeology Department.
Tick served honorably in the Air Force from 1961 to 1969. While flying as an F-100 pilot in the Vietnam War, he received many honors including the Distinguished Flying Cross (First Oak Leaf Clusters), Air Force Outstanding Service Award, Vietnam Service Medal with Star, Gallantry Cross, and 20 other commendations and medals.
After his Air Force service, he became a commercial pilot with Continental Airlines and later moved to USAir where he retired as a Captain in 1998.
He was a member of the Super Sabre Society, VFW, and American Legion. In 2011 Tick received his Fifty Year Award from the Masonic Grand Lodge of South Dakota.
Howard was preceded in death by his parents, his son, Christopher, and his sister, Diana Webb of Gettysburg.
He is survived by his wife, Barbara Lynn Loitwood, his daughter, Lisa Jean (Chandler) Dunah, two granddaughters of California, and aunts Shirley Nagel of Gettysburg, SD, and Joanne Strader of Colorado
A Celebration of Life will be held at a later date. In lieu of flowers, contributions may be made to the Ohltown Methodist Church (Howard Loitwood Memorial Fund) 2001 Ohltown Road, Mineral Ridge, Ohio 44440.
Source: https://www.pottercountynews.com/articles/howard-tick-loitwood/