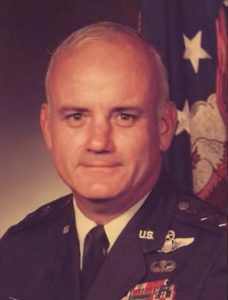 John Thomas Buck (Major General USAF, Ret) "Headed West" on March 18, 2019.
Major General John Thomas Buck, USAF, Ret., 87, of Farmington, passed away late Monday evening, March 18, 2019, at Ascension Providence Hospital, Southfield Campus.
John was born April 4, 1931, in Detroit, to the late Howard G. and Euphemia G. (McLeod) Buck.  He married Nancy L. (Isley), on December 27, 1953, at the First United Methodist Church of Farmington.
Maj. Gen. Buck was vice commander of the Aeronautical Systems Division, Air Force Systems Command, with headquarters at Wright-Patterson Air Force Base, Ohio.
He graduated from Farmington High School in 1949, and from the University of Michigan, Ann Arbor, in 1955 with a bachelor's degree and a commission as a second lieutenant through the Air Force Reserve Officers' Training Corps program. He earned a master's degree in public administration from The George Washington University, Washington, D.C., and is a graduate of the Air Command and Staff College and the Air War College, both located at Maxwell Air Force Base, Ala.
The general entered pilot training in November 1955 and received his wings at Laredo Air Force Base, Texas, in December 1956. He was then assigned as a fighter pilot in the 34th Fighter-Day Squadron at George Air Force Base, Calif., with additional duty as squadron adjutant until July 1960.
He was then selected for exchange duty as a pilot with the Marine Corps Fighter Squadron VMF 333 at Beaufort Air Station, S.C., with additional duties as air tactics officer and aircraft maintenance officer. During this tour of duty, he also qualified in aircraft carrier operations. General Buck transferred to Homestead Air Force Base, Fla., in September 1962 as a pilot with the 308th Tactical Fighter Squadron, with additional duty as a wing maintenance test flight pilot. During this assignment he received Army parachute training and was awarded jump wings.
In August 1964 he entered the Air Command and Staff College and concurrently earned his master's degree from The George Washington University. After graduation in July 1965, he was assigned to the Direct Air Support Center at Shaw Air Force Base, S.C., as a fighter duty officer supporting the 82nd and 101st Airborne Divisions of the U.S. Army. The general was selected to attend the Special Forces Officers Course at Fort Bragg, N.C., in January 1966. In the summer of that year, he went to Bien Hoa Air Base, Republic of Vietnam, assigned to the 1st Australian Task Force as a forward air controller and air liaison officer, and later with the 90th Tactical Fighter Squadron at Bien Hoa as a flight commander. While in Southeast Asia he flew 367 combat missions.
From July 1967 until June 1968, General Buck was with the Allison Division of the General Motors Corporation at Indianapolis under the Air Force Institute of Technology's Education-With-Industry program. He then joined the F-15 System Program Office at Wright-Patterson Air Force Base, serving successively as chief, Production Division; deputy director, Procurement and Production Directorate; and airframe project manager. From 1969 to 1973, General Buck flew with the 121st Tactical Fighter Wing of the Ohio Air National Guard. He entered the Air War College in August 1973.
Following graduation he was assigned to Hanscom Air Force Base, Mass., first as deputy for surveillance and navigation systems in Electronic Systems Division in July 1974; then as commander, 3245th Air Base Group in June 1975; and finally as deputy for control and communications systems, also in the Electronic Systems Division, in March 1976. After leaving Hanscom Air Force Base in May 1978, he became chief of the Special Projects Office at Supreme Headquarters Allied Powers Europe in Belgium. In May 1980 General Buck returned to Hanscom Air Force Base and served as deputy for airborne warning and control systems, and deputy for tactical systems at Electronic Systems Division. He assumed his present duties in February 1983.
The general was a command pilot. His military decorations and awards include the Defense Superior Service Medal, Legion of Merit with oak leaf cluster, Distinguished Flying Cross with oak leaf cluster, Bronze Star Medal, Air Medal with 15 oak leaf clusters and Air Force Commendation Medal with oak leaf cluster.
He was promoted to major general on May 1, 1980.
John followed his Air Force career with a senior management role at Hazeltine Corporation in Green Lawn, New York.  Following his time with Hazeltine, he moved to Buffalo, New York, becoming President of Sierra Research Division of LTV Corporation.  He retired from Sierra Research in April 1998, and moved to Farmington, Michigan,
His interests included the University of Michigan athletics, golf, flying, traveling, serving his Phi Delta Theta fraternity alumni group, maintaining connections with fellow fighter pilots and his many grandchildren.
Surviving are his beloved wife of 65 years, Nancy; children, Tom (Karen), Judi Mynsberge, Michael (Judy Apostolico-Buck), Kevin (Anne) and Mary Gillman; grandchildren, Andrew and Jonathan Buck, Jennifer Nicole (Chris) Drain, Nate and Kelsey Mynsberge, Christopher, Ian and Laurel Buck, Allie and Justin Buck, and Amanda and Kimberly Gillman; and great-grandchildren, Aria, Liam and Jackson.
The family received guests on Saturday, March 23rd, with military honors rendered afterward, at the Heeney-Sundquist Funeral Home, downtown Farmington.
In lieu of flowers, contributions are suggested to the Air Force Museum Foundation, PO Box 33624, Wright-Patterson Air Force Base, OH, 45433-0624; Fisher House Michigan, 3250 Plymouth Road, #103, Ann Arbor, MI, 48105; or the University of Michigan Buck Family Scholarship, for the benefit of students from Farmington, Buck Family Scholarship Fund – 571768, 101 North Main Street, Suite 850, Ann Arbor, MI 48104.
Kindly keep John and his family in your thoughts and prayers during this difficult time.