SSS member Joseph J. Hillner Jr,  Col (USAF  Ret), 89 Headed West February 9, 2020, in San Antonio.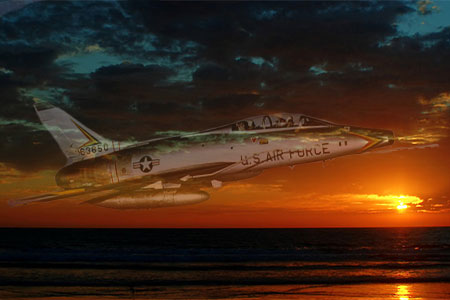 Joe was born on December 9, 1930, in St. Louis, Missouri to the late Joseph, Sr. and Sylvia Kumbera Hillner and entered the U.S. Air Force in 1952 where he became a decorated fighter pilot and was stationed all over the world.
In Joe Hillner's words: "I received my wings at Luke AFB, NM in Pilot Training class 53G and went on to training in the F-84 D, E and G. In April of 1953.  I was assigned to Bergstrom AFB in Texas to fly the F-84F with the 27th Strategic Fighter Wing. However, the F-84 was grounded most of the time, and we got our time as co-pilots in KB-29 Tankers.
After tours in Korea, Japan, and France, I went on rotation to Kelly AFB, TX with the 1708 Ferrying Wing Detachment 12, where I flew simultaneously in the T-6, T-28, T-33, F-86 A, E, & F, and the L-20. The Wing was deactivated in the Spring of 1958.
During this person of USAF downsizing, I was reassigned to Supply School in Cheyenne, WY then on Chaumont France with the 48th Tactical Fighter Group. Before signing in at Chaumont I ran into my first Squadron CO at Bergstrom, LtCol Al Fell, who introduced me to Col Bruce Hinton, 48th DO. He got me released from the M&S Group CO and sent me to the 494th TFS, flying F-100 D, and F.  We transferred to RAF Lakenheath in January of 1960.  I rotated to Cannon AFB. NM, with the 523rd Tactical Fighter Squadron/27th Tactical Fighter Wing.
I went to US Army Parachute School while stationed at Cannon, then PCS to Ft. Riley, KS as an ALO/FAC.  My tour in Viet Nam started via rail and water with the Big Red One from Ft. Riley, flying the O-1 Bird Dog. Next, then returned temporarily to Ft. Riley, then to TAC Headquarters and a tour with Fighter Ops.
In the Summer of 1969, I was assigned to the 401st TFW Torrejon AB, Spain and became Commander of the F-4E Fighter Squadron until promotion to Colonel and subsequent assignment as Base Commander of Aviano AB, Italy. After rotation back to the states in 1972 and attendance in The Air War College, I left the USAF in 1973. It was a wonderful 20 years in USAF!"
Joseph served our country faithfully for over 2o years before he retired in 1973 in San Antonio, Texas. After his retirement, Joseph worked in the financial services industry as a consultant. He and Lucille Lee Kaelin were married on June 28, 1995, in San Antonio, Texas.
Joseph was preceded in death by one son, Jeffrey. He is survived by his wife, Lucille, two sons Joseph III, James (Debbie); daughter Jeannine (Scott Jenkins); three step-daughters Linda Bannister (Kevin Hornung), Laura Bannister(Brett Broaddus) and Lucy Bannister; step-son Gary Lee Bannister (Susan); nine grandchildren Megan, Brooke, Gehrig, Reese, Amanda, Brian, Geoffrey, Isabella and Branson; and several great-grandchildren.
Memorial services were held with military honors at Fort Sam Houston Cemetery in San Antonio, Texas.