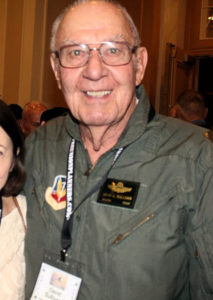 SSS Member Major David J. Sullivan (USAF Retired) headed west on February 23, 2020. He will be remembered for his devotion to family and country, and his love of aviation. Born in Washington, D.C., on September 5, 1937, he knew at a young age that he wanted to be an aviator. The USAF enabled him to fulfill that dream. As an F-100 fighter pilot, Dave flew over 300 combat missions, spanning TDYs and one full year tour in Vietnam, earning two Distinguished Flying Crosses, 16 Air Medals, a Republic of Vietnam Gallantry Cross with Palm and numerous other awards and decorations.
After Dave left the Air Force, he worked as a flight instructor for Flight Safety in Tucson and then received a job offer from Learjet where he resided until 1988 when Learjet moved their Flight Department to Wichita. Dave's career at Learjet was no less distinguished than his military career. He was type rated in all the Lear products, flying customers and potential customers all over the world as a Marketing Demonstration Pilot. His primary role was to assist the sales staff in demonstrating the capabilities of the aircraft to the potential buyer. Oftentimes, this meant flying into very small airfields in remote locations where the customer's business was located. Whenever a particularly tough assignment came along, Dave was usually selected. He was also tasked with training new owners and/or their pilots. Due to the limited range of the aircraft, flight planning was also a crucial skill needed to plot longer trips and allow for appropriate stopping points to refuel. 
Dave especially loved the comradery of other Learjet pilots. During his working years and for several years after his retirement from Learjet in 2005, he would receive phone calls from pilots all over the world seeking Dave's help with a tricky flight plan or his take on the best approach to a remote location, etc. He was always willing to share his experience and expertise with these young pilots.
Dave was a member of both the national and local chapters of MOAA and the Super Sabre Society. He was a longtime supporter of USO and many Veterans Associations. His love of history fueled his desire to travel to many of the military and historical museums throughout the country. 
Dave's love of life and his natural enjoyment of people made him equally at home, whether he was having a cold one in a Montana beer joint or enjoying fine dining in a European restaurant. His natural curiosity made him a wonderful travel companion. More recently .when he was unable to travel due to his failing health, he found joy in encouraging others to travel as often as they can and enjoy all that the world has to offer.
Loyalty, sincerity, and generosity, coupled with his sense of duty, reflect the character of the man, and of a life well-lived. Dave is survived by his wife, Patricia; son Gary (Tracey); sister-in-law, Teri Johnson; nephews Brian and Derek Johnson; and numerous friends.
Funeral arrangements are pending due to the coronavirus pandemic.