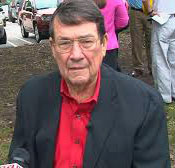 Jack Linwood Van Loan was born December 16, 1931, in Eugene, Oregon, to his late parents, Wendell Linwood Van Loan, Ph.D., and Lillian Schroeder Van Loan, Ph.D. At the age of 87, he peacefully passed away at home surrounded by family.
Jack is survived by the love of his life, best friend and wife Linda; brother James Wendell Van Loan (Sharon); six children Steven, Glenn and Douglas Van Loan, Brian Black, Holly Black and Megan Ruppert; 19 grandchildren; and many nieces, nephews, and great-grandchildren.
Jack graduated from Oregon State University in 1954 and had an active flying career flying F-100s, F-4s, and A-7s and later commanded a Tactical Fighter Wing.  His last assignment was at the 9th Air Force Director of Operations, at Shaw AFB, SC. During his career as a fighter pilot, Jack served 6 heroic years interred as a POW in North Vietnam. And, he was a Charter Member of the Super Sabre Society, serving one two-year and one four-year term as Vice-president of the Society, from the founding in 2006 through 2012.
To read about Jack and his life as a POW go to: https://supersabresociety.com/biography/van-loan-jack-l/
Jack retired in Columbia, SC, in 1984 and was honored with a statue in Five Points in Columbia, SC, that portrays him emerging from 6 years of captivity. At the time the statue was dedicated, he was honored by  Senator Lindsey Graham, R-SC, Congressman Joe Wilson, State Senator John Coursen, and Columbia Mayor Steve Benjamin.
Memorial Services are planned on Saturday, October 26, 2019, in Columbia, SC, at Five Points' Centennial Plaza.  This Memorial Service includes tributes to Col Van Loan and a Memorial Fly-by by the SC Air National Guard F-16s.
This Memorial Service starts at promptly at 1:45 PM and ends at 3:00 PM. Valet parking will be available. In lieu of flowers, the family asks that memorials may be made in Jack's name to one of the following: local community safety organization, Serve and Connect, The Wounded Warrior Project or Heartstrings Hospice.