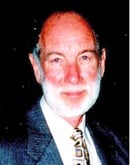 Joseph Richard Murphy, Jr. Joseph Richard (Dick) Murphy, Jr. passed away peacefully at home on October 15, 2019, with his family surrounding him with their love. Dick was born on September 24, 1933, in Parkersburg, WV to Joseph Richard Murphy, Sr. and Glendora (Stagg) Murphy. Always a standout student, his activities at Parkersburg High School included Secretary of State at Boys State and state wrestling champion. The first person in his family to go to college, Dick gave up a wrestling scholarship to focus on academics, graduating magna cum laude with a degree in Political Science from West Virginia University in 1955. It was there that he met the love of his life Mary Lou Fryman of Madison, WV. He was a member of the Delta Tau Delta fraternity and ROTC. Dick reported for Air Force flight school in Laredo, TX, where he and Mary Lou were married.
After completing his training, he received orders to report to the 48th Fighter Bomber Wing in Chaumont, France to fly the unforgiving F–100 Super Sabre, the Air Force's first level–flight supersonic jet. The three years in France were marked by danger, days and weeks away from home, enduring friendships, and the addition of two daughters, Laura and Alison.
When Dick finished his service, the family moved to Boulder, Colorado where he earned his J.D. from the University of Colorado School of Law. Dick and Mary Lou added two more children, Rich and Jennifer, while Dick worked in private practice in Denver.
The family moved to Marin County in 1967, when Dick accepted a position with the United States Treasury Department in San Francisco where, during his 26-year tenure, he served as Deputy Regional Counsel and District Counsel. The family settled in San Anselmo in 1969, where they have remained ever since.
His unflagging support of his family and community included helping Mary Lou v antique business, attending countless special events as well as serving for five San Anselmo School Board. Dick was ar integrity and honesty, with quick wit and intelligence. He was an avid reader, with interest and breadth of knowledge in history, biographies, and exploration. Above all, he was a wonderful husband and father. His dearest love was for his wife and family, to whom he devoted his life. He is survived by his wife of 63 years, Mary Lou; his four children Laura (Joe) Moore, Alison (Parvez)