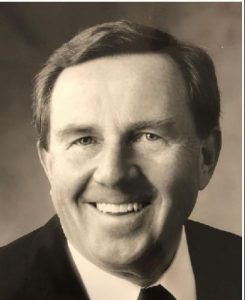 John Tucker Marston (LtCol USAF, Ret) "Headed West" on October 3, 2019.
John Tucker Marston (LtCol USAF, Ret) age 85, born May 20, 1934, passed away on October 3, 2019, after suffering a heart attack. Six days earlier, Tucker and his wife, Jean, hosted a grand party and entertained many of their dearest friends.
Tucker was a graduate of University School and Denison University (Beta Theta Pi) and served as a jet fighter pilot in the United States Air Force and the Ohio Air National Guard. He was also a liaison officer for the Air Force Academy. An Air Force commendation medal recipient, he retired as a Lieutenant Colonel.
While a financial advisor with McDonald and UBS Financial Services, he served on the Finance committee – Village of Gates Mills, was Secretary-Treasurer of Defense Orientation Conference Association (DOCA), and Vice President and Director of the Cleveland National Air Show.
A lifelong Republican, he was a former Chairman of The Cuyahoga County Policy and Platform Committee, Ward Leader and precinct committeeman, and a candidate for the U. S. Congress in 1992 and 1994.
A Life Master bridge player, he was a member of many associations and clubs including Bluecoats, Cleveland Athletic Club, Union Club, Tavern Club, Kirtland Country Club, Ocean Club of Florida, Old Guard Society of Palm Beach, Little Club, Country Club of Florida, La Coquille Club and Manalapan Yacht Club.
"The Colonel" was a devoted grandfather to Audrey, Everett, and Bennett Lee, and was the son of John Mitchell and Constance (Bunny) Tucker Marston. Devoted stepfather to Jeffrey S. Lee (Amy) and Benjamin J. Lee (Henderson), brother to Connie M. Novello (Mo) (deceased), brother Charles S. Marston (Sue), Uncle to Jan N. Vondrasek, Nancy A. Novello, John M. Novello, Suzy N. Bako, Polly M. VanAlstyne, Wendy M. Frettingham, cousin's Bartow T. Robbins (Betty) and Leon J. Robbins (Libby) (deceased).
A memorial service was held on November 8th at St. Christopher's by-the-River. In lieu of flowers the family suggests donations to St. Christopher's by-the-River, 7601 Old Mill Road, Gates Mills Ohio 44040 or University School Endowment Fund, 2785 SOM Center Road, Chagrin Falls, Ohio 44022.
The news to the SSS of the passing of Tucker Marston was recently discovered when his Summer issue of The Intake was returned by the USPS indicating "Return to Sender, Deceased, Unable to Forward."
Source: https://obits.cleveland.com/obituaries/cleveland/obituary.aspx?n=john-tucker-marston&pid=194108810