James Carter "Jim" Gibler, 89, of Lubbock, Texas passed away December 26, 2021.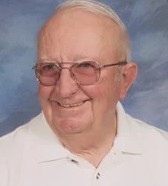 Jim is a former SSS member  He was a 2005 Stooler, and a stalwart in Lubbock's Dust Bowl Chapter of the CBSA. He was also a very good friend of Mac Staples who Headed West 11 days earlier.
Dewey received the news from Ace Carlton who forwarded an email from John Sims.
Official Obituary:
James was born September 11, 1932, in Mattoon, IL to John Walker and Jennie Amira Gibler. He married Betty Ann Harcarik on January 15, 1954.
Jim served in the U.S. Air Force enlisting on March 14, 1955, and retiring with the rank of Colonel on May 20, 1975. Jim continued his career and love of flying as a pilot for McDonnell Douglas. He moved to Lubbock in 2001.
The love of his life, Betty Gibler passed away on October 10, 1999.
Loved ones include children, Valerie Gibler Ray and husband, Lance Ray; Steve Gibler and wife, Lori Gibler, Angela Gibler, Mike Gibler and wife, Sheila Gibler; grandchildren, Jordan Ray, Sean Collin Ray, Caroline Sibley and Andrew Lochman; great-grandchildren, Becca and Gemma.
Preceded in death by his parents, wife, Betty Gibler, brother, John Gibler; sister, Jane Allen.
Memorials are suggested to Veterans of Foreign Wars.
A viewing will be held on December 30, 2021, from 9:00 am to 8:00 pm. A mass of Christian Burial will be at 10:00 am on Friday, December 31, 2021, at Holy Spirit Catholic Church. Graveside services will follow at a later date in Fort Sam Houston National Cemetery. Please celebrate the life of James by visiting www.sandersfuneralhome.com
To send flowers or a memorial gift to the family of James Carter "Jim" Gibler please visit our Sympathy Store.