S.G. "Sam" Flowers Jr. LtCol USAF (Ret.) passed away from natural causes in his sleep on December 18, 2020, where he flew off into the sky with his co-pilot Bev and wingmen, Tom and Anne. He had a great life.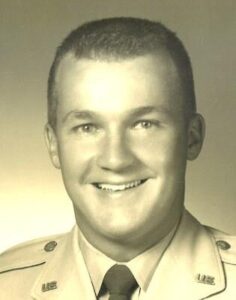 Sam was born August 27, 1929, in Zebulon, NC. where his extended family had been merchants and farmers for many generations. After graduating from Wakelon High School, Sam attended Campbell College, Wake Forest, and the University of Nebraska over the ensuing years as his career would allow. Sam joined the United States Air Force in 1947 and completed his pilot training, receiving his pilot wings, at Marana AFB in May of 1953.
Sam met his wife of 65 years, Beverlee June, on a tennis court in Denver Colorado in 1951 while stationed at Lowry AFB. They were married on March 12, 1955, and the adventures commenced. Sam and Bev moved and lived on many USAF bases in the states and abroad. Son, Thomas Bailey was born on November 20, 1958.
During his military career, Sam flew, trained, taught, and fought for this country in a variety of aircraft: T-33 Thunderbird, T-38 Talon, F-84 Thunder-Jet, F-86 Sabre, F-100 Super Sabre, A-4 Skyhawk, and Al -E Skyraider. As well as for the USAF, he flew exchange duty with the US Marines and Taiwanese Air Force. Sam flew and fought in the Korean and Vietnam wars where he received the Military Medal, the Vietnam Medal, the Air Medal, and the Distinguished Flying Cross. Throughout his career he became a Flight Commander and Command Pilot. Sam was devoted to his country and sacrificed much for its protection through his direct efforts and the training of other pilots. Sam retired from the US Air Force in July of 1972 as a Lieutenant Colonel.
After retirement, Sam, Bev, and Tom moved to Raleigh, NC where he continued to fly as often as he could. In 1990, Sam and Bev moved to Great Falls, MT so they could be closer to family out west and most particularly to granddaughter Anne Marie (his most favorite person), who was born in 1989. Sam kept flying while buying and selling single-engine aircraft that he purchased from around the country. Sam loved to hang out at a variety of airports but most particularly the FBOs in Great Falls, MT. His love of flying influenced his son Tom to become a pilot and they had many great flights together in Montana. Sam was a very proud father. He was adventurous (although never on a horse), unpredictable (unexpected and unexplained travel), fun with family and others, very social, loving, and a devoted family man.
Sam volunteered for many years at the Pharmacy on Malmstrom AFB and at Great Falls International Airport. Sam and Bev were longstanding members of the Meadowlark Country Club where they enjoyed the social activities and camaraderie of fellow club members.
Sam is survived by his wife, Bev Flowers (Great Falls); Son, Tom Flowers (Helena), granddaughter, Anne Flowers Massouh and husband, Dr. Alan Massouh (Salt Lake City, UT); Lisa Blood Flowers (Kalispell, mother of Anne); many nieces and nephews in NC and CO. He was preceded in death by his parents; and two sisters, all from North Carolina. Sam's two favorite dogs, Tiger (a USAF mascot, a memory now) and Teddy Blue (Choteau) continue to be in our hearts as well.
A special thanks goes out to the Bee Hive Homes, Linden House staff who gave Sam comfort his last few years of life. What wonderful caregivers!
A "Fly Bye of Life" Memorial was held on August 27, 2021. Sam lived a full life and will be missed, but never gone from our hearts.
Source: Schnider Funeral Home