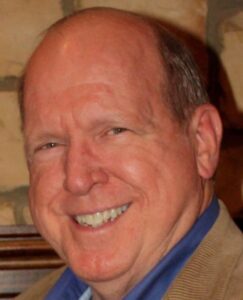 Col. William "Hoot" Gabel, USAF, (Ret.) of Upper Arlington, OH passed away Wednesday, December 22, 2021, at the age of 80 after leading a life that can only be described as extraordinary.
Growing up in the suburbs of Chicago as the oldest of five children, he would spend his summers at the family farm near Grayville, Illinois. It was here where his love for the outdoors took hold with fond memories of working hard, riding horses, shooting, and reading by a kerosene lamp at night. These experiences would spark his interest in Boy Scouts, which were supported by his father who became scoutmaster of Troop 619 and taught him and his brothers the guiding principles of scouting – "Duty to God", "Duty to Others" and "Duty to Self". By 1955 he earned the rank of Eagle Scout in the Boy Scouts program, and later earned the Silver Award which is the highest rank in Explorer Scouts.
Bill graduated in 1959 from Joliet Catholic High School with a love of chemistry. After earning a Navy scholarship to Notre Dame, it was his chemistry teacher that challenged him academically to pursue acceptance to the United States Air Force Academy in Colorado Springs – a relatively new school that received academic accreditation and graduated its first class that same year. Anyone that has met Bill, knows he loves a challenge…so off he went to Colorado.
Bill graduated from the US Air Force Academy along with 498 other cadets in June of 1963 and was immediately sent to Vance AFB in Oklahoma to begin pilot training in the T-37 and T-38. By 1964 he was transferred to Moody AFB in Georgia to continue as an instructor pilot. While at Moody, he lived the life of a confirmed bachelor – fully equipped with an off-base trailer, boat, Corvette, and Porsche. It was here that he unknowingly met his future wife Jean, an Air Force nurse and close friend who shared diet and dating advice…but it wasn't "yet" their time.
By 1968 Bill left to Myrtle Beach AFB in South Carolina to begin training in the F-100 Super Sabre, the first supersonic fighter that earned a reputation as a lieutenant-killer. About 25% of all F-100's produced were lost in accidents. In 1969 he left to serve in Vietnam flying the F-100 in combat. After nearly 100 missions/sorties, he ventured to the far side of Tuy Hoa Air Base to inquire about a small group of pilots. He was told they would only disclose their Top-Secret mission after he first volunteer to join. Of course, with any challenge made the challenge was accepted…and Bill joined the Operation Commando Sabre with radio call sign "Misty". These pilots served as Forward Air Controllers flying up to 550mph at low altitudes while continuously "jinking" (changing direction) to hunt for future targets along the Ho Chi Minh Trail to disrupt the transfer of enemy supplies. About 28% of the only 157 pilots of Misty were shot down during the three years this group was active – which made Misty one of the most dangerous assignments for a pilot in Vietnam. Bill flew another 70 missions/sorties while part of Misty during a four-month span that he later described himself as having "a high guts to brains ratio" before returning home in 1970.
Once back home, Bill continued his education at the University of Illinois and earned a Master of Science degree in Aeronautical and Astronautical Engineering in 1972. Shortly after, he graduated from the USAF Test Pilot School in 1973 at Edwards AFB in California flying the T-33, T-38, F-104, A-7, among many others…one of which was a nameless experimental aircraft that he flew to an altitude of over 100,000 feet in a pressurized space suit.
In November of 1973, Bill had successfully tracked down his longtime friend and apparent secret love interest from Moody AFB and convinced her to marry him at the Air Force Academy chapel and ultimately spend the next 48 years together. His other friends would eventually recount the dramatic change from driving fast cars and planes to then driving a wood paneled station wagon fully equipped with a wife, daughter and dog. It was only a few more years of flying the F-111 at Eglin AFB in Florida and T-39 at Andrews AFB in Maryland before he officially hung up his wings and became a full-time family man with the arrival of his son in 1976…but his military career was far from over.
He would spend the next nine years "flying a desk" at Andrews AFB in Maryland, Holloman AFB in New Mexico, and attending/teaching at the Air War College at Maxwell AFB in Alabama before navigating the family to Upper Arlington. Here he was stationed at Defense Supply Center and later commuted every day for three years to Wright Patterson AFB in Ohio before retirement after 29 years of active duty in 1992. During these Air Force years, Bill was awarded the Defense Superior Service Medal, Legion of Merit, Distinguished Flying Cross, Meritorious Service Medal (with two Oak Leaf Clusters), Air Medal (with twelve Oak Leaf Clusters) and the USAF Commendation Medal (with two Oak Leaf Clusters).
Before retirement, Bill started planning for a career change and settled on accounting after enjoying financial and budget work in the Air Force. After years of studying with intense focus (like any fighter pilot would), he passed the CPA exam on the first attempt, and later earned a Master of Taxation from Capital University Law School in 1996. He was later quoted as saying: "Desks aren't really that great, but the Misty experience has given me enough experience to do daily battle with the dreaded IRS." He would ultimately spend the next phase of his life as a self-employed CPA doing personal and corporate income taxes while defending clients in audits and teaching the difference between evading (illegal) and avoiding (legal) tax liabilities.
He even dabbled for a couple years teaching accounting at Franklin University, Ohio University and The Ohio State University. He became so feared by the IRS after successfully counter suing numerous times, that he couldn't help but giggle when the IRS responded to his preliminary notification of representing a client with "we've decided to drop the case". The IRS and even FBI would later call on his help as a forensic accountant special witness.
When thinking of Bill, it's hard to avoid his strong moral compass, his rigorous ethics, his accomplished military career, his drive for knowledge and education, involvement in scouting and love of the outdoors, shooting, amateur radio, support of the military, and law enforcement, and his focus on family as the reason and purpose for everything. Though he will be greatly missed, all who knew him to know he's soaring in the heavens with a level of pride reserved for those that accomplish the extraordinary.
William Gabel was preceded in death by his parents Arnold (Estelle) Gabel and Mary Gabel; siblings Jeff Gabel and Mary (Steve) Hackett. He is survived by his wife Jean Gabel of 48 years; two children Kristine (Walter) Palen and Scott (Dawn) Gabel; five grandchildren Abby Palen, Jack Palen, Anna Palen, Brooke Gabel, and Summer Gabel; and two brothers Robert Gabel and James (Jackie) Gabel.
Due to the spike in Covid cases, the family has decided to postpone the funeral services until sometime in February 2022.
To send flowers or a memorial gift to the family of Col. William Edward Gabel, USAF, Ret. please visit our Sympathy Store.
Source: Col. William Edward Gabel, USAF, Ret. Obituary – Visitation & Funeral Information (schoedinger.com)