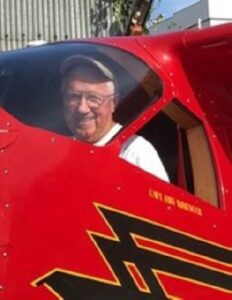 Bill, affectionately known around the world as "Captain Biff Windsock", age 86, "flew west" on January 5, 2022 in Reno, NV after a short illness. His daughters and son-in-law were by his side.
Bill was born on August 1, 1935 in Hamtramck, Michigan. At the young age of 8 years old, he stood at the edge of the local airfield and knew with certainty that aviation would be the passion of his life. While attending Western Michigan University, he joined the Air National Guard which launched his flying career. Upon graduating in 1961 with a degree in Business and Aviation, he found himself flying airplanes that most pilots only dream about: the F-84, F-86 and F-100 in the United States Air Force. While in the reserves he was hired by United Airlines and had a rewarding 37 year career. From 1968-69, he was called to active duty during the Vietnam War to fly the F-100 Super Sabre successfully completing 200 combat missions.
After retirement from UAL in 1995, Bill found himself realizing a lifelong dream when he purchased a bright red 1944 Beechcraft Staggerwing which he proudly named the Red Rockette. The plane was refurbished in Mandeville, New Zealand gearing up for the real fun and yet another dream, to fly her around the world (www.captainbiff.com). The adventure began in 2009. Among some of his many stops were Australia, Indonesia, Thailand, India, Middle East, Cyprus and into Europe and Southern England where he spent numerous long summers meeting up with cherished friends, old and new. There were many highlights along the way, but one of his favorite experiences was being honored to join in the fun at the Goodwood Revival where the Red Rockette proudly won the Freddie March Spirit of Aviation Award in 2012. Another favorite was having the plane painted with a special removable paint in WWII livery to participate in the D-Day Remembrance Flyovers on the 70th Anniversary in France in 2014.
Bill was truly a "citizen of the world" as shown by his support, membership in and association with numerous aviation organizations throughout the U.S., Great Britain, Europe, Australia and New Zealand. Just a few of these are the Reno Mondongueros, Young Eagles Program, Earthrounders, Staggerwing Society, Tiger Moth Club, QB's (Quiet Birdmen) and RUPA (retired United Pilots Association).
Bill, our beloved father, brother, uncle, great-uncle, cousin, grandfather, and friend is survived by his children Jill Charney, ElizaBeth (Tim) Ulfig, Scott (Jorge Figueroa) Charney, his grandchildren Kirsten, Lindsay, Kennedy and Macy Ulfig, his brothers Bob (Cookie) Charney, Ron (Joan) Charney and Larry (Colleen) Charney, plus countless wonderful nieces, nephews, great nieces and great nephews. Bill was preceded in death by his brother Ray Charney, his parents Michael and Mary (Hreha) Charney and his children's mother and friend Susie Johnson.
He will be remembered by family and friends for being a kind, generous, fun and friendly man as well as a worldly aviator. Bill was an enthusiast of many things but at heart, he was a one of a kind adventurer with an infectious personality. Soar the heavens, be at peace Bill.
A mass will be held at a later date at Our Lady of the Snows, followed by a celebration of life. Bill will then be buried at Arlington National Cemetery also at a later date.
To help Captain Biff's generous legacy to spread and teach the passion of flight, please consider donating in Bill's memory to:
Wings of Hope www.wingsofhope.ngo, 18370 Wings of Hope Blvd. St. Louis, MO 63005 or
The Rob Wildeoboer Scholarship Fund, scholarship@goodwood.com
Source: Reno Gazette