Sergi L. Demchuk, Col USAF (Ret) "Headed West" on January 4, 2022.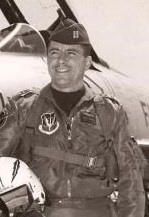 Colonel Sergi Lincoln Demchuk (USAF, Ret.) passed away at his home on January 4, 2022. He is preceded in death by his parents, Peter and Efrosinia Demchuk, and by his wife of 46 years, Margaret Helen Moorman Demchuk.
Born in Brooklyn, New York, and raised in Woodbury on Long Island, he graduated with a B.S. in Forestry from Syracuse University and was commissioned as an officer in the U.S. Air Force the same year. In the course of his career, he flew the F-100 Super Sabre and F-4 Phantom, both frontline Cold War fighter jets. He was awarded the Distinguished Flying Cross for heroism in aerial flight, he flew two combat tours in Vietnam.
He met his wife-to-be Maggie at Clark AFB in the Philippines, she was the daughter of the Commander of the 13th Air Force, and h was a lowly 1st Lieutenant Airman. They had three sons, the family living together in South Carolina, England, Germany, Colorado, Pennsylvania, and Virginia. His final Air Force years were spent at Tactical Air Command HQ in Hampton, Virginia where he played a key role in staffing the initial squadrons of F-117s, America's first stealth fighter.
A first-generation American, Serge deeply loved his country. He felt fortunate to serve his nation and was hugely respected by his colleagues. He was a most loving husband, father, grandfather, uncle, brother, and brother-in-law, as well as a steadfast friend to many.
He was proud to be a leader and Senior Warden at St. Aidan's Episcopal Church, where he played a pivotal role in its renovations and on search committees for its rectors. He was also a devoted volunteer for Meals on Wheels. Family, the church, and his community were Serge's passions in life, and his honor and kindness made a considerable impact on all who were blessed to know him. At the age of 86, he believed he had lived a long and full life. He always found great strength in his enduring love for Maggie and in his faith in God.
He is survived by his loving sons, Peter, Thomas, and David, daughters-in-law, Hallye and Cindy, as well as grandchildren, Claire, Alex, Aidan, and Ella. He is also survived by his beloved sisters, Nina and Donna, and nieces, Libby and Caroline. A service will be held in his memory on February 19, 2022, at 2:00 pm at St. Aidan's Episcopal Church, 3021 Edinburgh Drive, Virginia Beach, and directly following, a reception at the church.
In lieu of flowers, please send donations to Meals on Wheels America. (1)
Sergi's friend, Jim Metcalf, Captain, USNR (Ret) sent us the following: "We all lost a great fighter pilot, a great father to his family & husband to his wife Maggie who preceded him in death, a great friend & a great Christian. As a fellow Hun pilot, you may have known him or at least of him. He flew the same F-100 CAS missions you did in Vietnam out of the same base but I believe at different times. I will keep you posted on services. I am sure he will be cremated & placed in the St. Aidan's [Episcopal] Church alongside his beloved Maggie."
Sergi got his wings in 1958 and was one of a small group of pilots to go directly to the F-100. He flew the F-100 for the next eleven years. From 1959-1961 he was with the 510th Tactical Fighter Squadron/405th Tactical Fighter Wing, Clark AB, Philippines, then from 1961-1965 with the 355th Tactical Fighter Squadron/354th Tactical Fighter Wing, out of Myrtle Beach AFB, SC.
In 1966 he flew the Hun with the 531st Tactical Fighter Squadron/3rd Tactical Fighter Wing out of Bien Hoa AB, Vietnam, and from 1967-1968 55th Tactical Fighter Squadron/20th Tactical Fighter Wing, out of RAF Wethersfield, England.
Source (1) Published by The Virginian-Pilot on Jan. 12, 2022.