Richard A. Graham, Lt Col USAF (Ret) "Headed West" on January 13, 2022.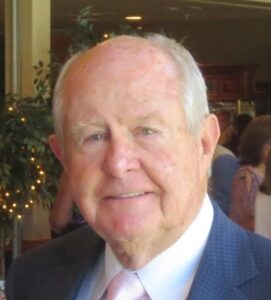 "On February 22, 1934, Richard was born as the second child of Franklin "Dut" and Catherine Graham. He had three children, ten grandchildren, six brothers, one sister, and one great-grandchild. He is survived by his long-time partner, Fran Mattivi, sister, Alice (husband Jerry), his son, Alan (wife Michele), and his daughter, Lorianne (husband James). Richard is also survived by ten grandchildren, Christian, Paige, Greyson, Courtland, Angelo (wife Jacki), Lorinda, Austin, Richard III, Matthew and Kelly, and a great-granddaughter, Adrienne. Richard was preceded in death by his parents, his daughter, Dana (husband Angelo), and his six brothers.
Richard lived an extraordinary life. He was heavily involved in Falconry and was one of the pioneers of artificial insemination as he attempted to save the Peregrine Falcon from extinction. He formed the United Peregrine Society and had as many as 50 U.S. Senators sign on in support. He initiated several trapping expeditions into Greenland in support of Falconry and presented the first Gyrfalcon to the Air Force Academy on November 20, 1965.
Richard was a fighter pilot in the U.S. Air Force and was the first recipient of the Barry Goldwater "Top Gun" award. He went on to serve his country in the Vietnam War, completing 254 flying missions between 1968 and 1969. Richard retired as a Lt. Colonel from the Air Force in 1973 and was one of the pioneers of the Self Storage industry.
"Our world changed on January 13, 2022, with the passing of our father, Richard Allen Graham. He was the beloved patriarch of our family and will be deeply missed. Richard touched many lives and will live on forever in our hearts."