William Kirk James, MGen USAF, (Ret) "Headed West" on January 13, 2022.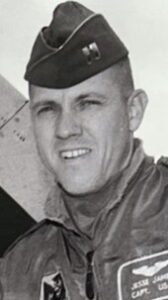 How do you condense 86 years of a grand life into just a few simple paragraphs? A start and an end as bookends to a litany of accomplishments? It hardly seems satisfactory. A whole book may not even be able to contain this extraordinary life.
William Kirk James, Kirk to his friends and family, General James to those he served with, was born to Louise Kirk James and William Fay James on June 15, 1935, in Hope, Arkansas. On January 13, 2022, in Haymarket, Virginia, he closed his eyes to his wife of 65 years, Jo, and opened them to his Lord Jesus.
Kirk's entire life was consistently marked by his grit and determination to chase his dreams. Bravery, humility, and service defined him. But most of all, he was known for his faithfulness and love of the Lord and his love for his family. As a teenager, he was so convinced he was destined to become a pilot that he saved all his money to pay for his own flying lessons. He worked hard against numerous obstacles to make his dream a reality.
While attending school at Southern Methodist University, he met the love of his life, Mary Jo Alsop. Kirk and Jo went on their first date on June 19, 1956, and were married August 26th, 1956, between their Sophomore and Junior years. To be able to provide for his new family, he worked many jobs all the while maintaining his grades and even making the honor roll as he received his Bachelor of Science degree in geology in 1958. Upon graduation from SMU, he received a regular commission in the Air Force through the Reserve Officer Training Corps program as a distinguished graduate. He received his pilot wings, pinned on by his wife Jo, at Greenville Air Force Base in July 1959.
During his 35-year career with the Air Force, he held many positions and was very accomplished. Those he served with remember him as someone they looked up to, strived to be like, trusted and loved. He was a leader, teacher, and encourager to all with whom he came in contact. He flew 180 combat missions as an F-100 pilot with the 3rd Tactical Fighter Wing, Bien Hoa Air Base during the Vietnam War. He rose in rank through the years and was promoted to Major General in 1986. He was a command pilot with almost 6,500 flying hours in the T-33, T-37, A-7, A-10, F-100, F-111, F-15, EC-135 and E-3.
He received numerous awards during his career including, but not limited to the Distinguished Service Medal, Legion of Merit, Distinguished Flying Cross and Meritorious Service Medal. These serve as a reminder of his bravery, sacrifice, and leadership. One might think that a seasoned war veteran would be hardened by all he experienced, but, in fact, the opposite was true. He was tenderhearted, gentle, and loving. Even the simplest things would bring tears to his eyes.
He would never tell you about all his accomplishments or boast about these awards. He would say, however, that even more important than all these were his love for his Lord and Savior, Jesus Christ, and his family. He not only served his country, but also, he faithfully served his family and the church. He was a loving husband, father, brother, uncle, Grandpa, Great-Grandpa, and friend. He was the proud father to his daughter Kelly, and two sons, Scott and Bradley. He was devoted to his children, coaching their sports teams, helping them understand their math homework, and encouraging them in every way possible. He was such a wise and kind father. He was their role model. To them, he was their hero in every sense of the word.
His biggest supporter and encourager in life was his wife, Jo, whom he was married to for 65 wonderful years. She faithfully was by his side through all his many military assignments around the world. She held down the fort at home while he was away at war. She was his helper and completed him perfectly. It was obvious to anyone who witnessed their marriage how much they loved each other. There was never a day that passed that they weren't affectionately tender with one another. In later life, they enjoyed sweet, peaceful years on their Virginia farm in the foothills of the Blue Ridge Mountains tending gardens and flowers and caring for the land together. They had tea together almost every single afternoon. They were the best of friends and modeled an ideal marriage.
His legacy lives on in the loved ones he left behind. He is survived by his wife Jo. His daughter Kelly Weir and her husband Russ. His granddaughter Lindsay Fetters and her husband Christopher. Great-grandchildren Emerson, Elliana and Everett. His granddaughter Kristin Harris and her husband Eric. His son Scott James and his wife Cara. His granddaughter Shelby Brewster and her husband Kade. Great-granddaughter Caroline Louise. His grandson Ryan James. His grandson Daniel James and his wife Jordan. Great-grandchildren Avery and Sutton. His son Bradley James and his wife Anne. His granddaughter Maureen Kinyon and her husband Alex. Great-grandchildren Harrison and Nora. And many nieces, nephews, and cousins.
He was proceeded in death by "Papa," William Fay James, and "Mama," Louise Kirk James. His big sisters Billye Jobe and Loretta Garrett. His big brother Bruce, whom he never got to meet on earth. What a wonderful hope we have knowing that they were reunited in heaven with their son and baby brother! We look forward to the day that we are wrapped in his arms again in an embrace in heaven.
Funeral services will be held at Arlington National Cemetery at the Chapel on May 9, 2022, at 11 a.m. Graveside service with full military honors to follow. Click here to see the video of Gen. James' memorial service at Arlington Cemetery.
If you would like to give in memory of Kirk we are asking donations be made to St. Jude Children's hospital, a charity he and Jo have always faithfully supported. To give in his honor you can go to giftfunds.stjude.org/williamkirkjames.
Condolences may be offered at www.moserfuneralhome.com.

Ft Myer Officer's Club
214 Jackson Ave, Fort Myer, VA 22211
(703) 524-7000