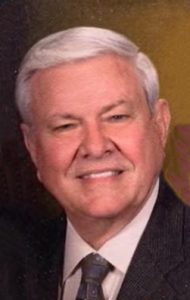 "Jerrald Duane Bucksath, July 27, 1937-May 31, 2023. Age 85, of Lemont, passed away on Wednesday, May 31, 2023, at Silver Cross Hospital, New Lenox, IL."
"Duane was a loving husband, father, and grandfather. He was raised in the small farming town of Dalton, MO. He was a star basketball player in high school and received a full-ride scholarship to the University of Missouri at Columbia. He was the president of his fraternity where he met his future wife Diane, the 1957 Homecoming Queen. After college, he served his country as a fighter pilot in the United States Air Force for seven years and flew F-100 Super Sabres. After his military service, he became a pilot with United Airlines, eventually becoming a Captain while also flying F-100s in the Illinois and Iowa National Guards for two years. During his time with United Airlines, he had the honor of flying three U.S. Presidents during their presidential campaigns. After 30 years with United Airlines, he retired and became the Chairman of his church, the United Methodist Church of New Lenox, IL. Duane was known as a generous, kind, and humble soul who will be greatly missed.
Duane was preceded in death by his wife, Diane Bucksath (McInturff), and his parents, Jerome and Pearletha Bucksath.
Duane is survived by his loving family, children, Mark (Maureen) Bucksath, Lisa (John) Eckenstein, grandchildren, John Eckenstein and Emma Eckenstein, and sister-in-law, Melinda Eubanks.
In lieu of flowers, donations to the United Methodist Church of New Lenox would be greatly appreciated."
Source: https://www.kurtzmemorialchapel.com/obituaries/Jerrald-Duane-Bucksath?obId=28087520