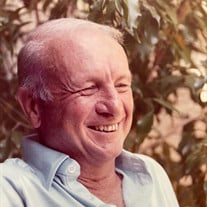 Ron Wortham "passed away on  May 14, 2023, in Denton, Texas at the age of 91. Born to parents Frank and Elsie Wortham in rural Newnan, Georgia on November 7, 1931, his early years were surrounded by extended family. Depression, economic hardship, and the search for steady employment led the Wortham's north to Chicago, and then to South Bend, Indiana. Ron's growing up years were in those two cities, attending public schools he always praised as quality institutions with wise and strict teachers. At Central High School in South Bend, he joined the Rifle Team, becoming a crack shot with several types of guns. Drawing became a recognized talent. Art teachers through the years encouraged him and helped Ron apply for extra instruction through scholarships, including the Art Institute of Chicago. At AI Chicago, he received both encouragement and professional critique. His career ambition when he graduated from high school was to head an advertising agency. Naturally, he combined art with a business degree from Ball State University, Muncie, Indiana.
After completion of his undergraduate degree, he took a position as a technical draftsman at General Electric in Schenectady, New York. GE catalogs packed with detailed drawings of radio parts and light bulbs were his bailiwick. However, after a year, Ron took an authorized sabbatical to complete an ROTC obligation to the military for partially funding his college education. In 1954, the US Air Force, a relatively new branch of uniform services was expanding rapidly.
They encouraged ROTC college graduates to apply as potential pilots to fulfill their obligations. On a whim, Ron took his first airplane flight, then did well on the aptitude test, proved he had 20/20 vision, and signed up! That chance opportunity changed the course of history for him. What began as reserve Air Force pilot training, evolved into a career in the military. Ron served twenty years, including National Guard time. Typical Ron, he embraced learning a new career with gusto. He flew F-100 fighter jets, then became a flight instructor on the T38. Air Force assignments also started Ron on a lifetime of domestic and world exploration. Temporary duty in Mississippi, Nevada and Texas gave him a chance to enjoy warmer climates. Overseas assignment to Okinawa provided opportunity for exploration of the Far East.
Typical of his forward thinking, he rode the wave of mass pilot hiring by commercial airlines. In 1965, he interviewed with several companies. Accepting an offer from American Airlines led him to raise his family in Texas, a state that had become a favorite during Air Force years. Ron's American Airlines years were filled with hard work, good friends, and more international travel. Coworkers and friends remember his dry wit and opinion on every issue in the world; usually accompanied by a solution to every problem. He often started the conversation with "… if I could just be King for a day…". After retirement in 1991, he enjoyed many years of leisure time to travel, golf, read and enjoy a perfect steak. An outdoor dinner on the deck of his Colorado cabin watching the sunset, followed by a cigar…"minimum magnificent", he would declare!
It is rare to know a person who is a whiz at diverse areas of skill and knowledge. Ron Wortham was one of those people. He could guide any airplane through bad weather and nail a tricky landing. He could paint and draw: landscapes and portraits grace the walls of his and family members' homes. He was good at golf, bridge, chess, trout fishing, target shooting, and investment finance. Love of reading history and biographies dovetailed with enjoyment of travel and exploration all over the world. His knowledge of trivia became legendary. Family Trivial Pursuit sessions inevitably started with a battle to have Ron on your team. Classic movies, sports legends, military history, geography, artists, lyrics to Sinatra music, weather and astronomy: he knew it all. He was a walking Jeopardy board, complete with correct answers. Ron's three daughters have appreciated his example of lifelong learning; all have embraced travel, reading, and curiosity about the world with enthusiasm. Grandchildren have followed suit: all five enjoy adventure and travel to new places. No doubt the ten great grands will not be far behind!
Ron is predeceased by brother, Robert Cunningham Wortham; mother of his children, Suzanne Bain Wortham; and grandson Gregory Branche Krause. He is survived by his beloved wife of 27 years, Cathleen Wortham and her family. Also, daughters Ann Marie Thompson (Steve), Carol Sue Wortham, Nancy Lou Krause (Dean); grandchildren, Emily Marie Cowan (Michael), Andrew William Thompson (Rebecca) Charles Edward Thompson (Brooke), Sarah Louise Yarbrough (Paul) and Margaret Suzanne Jung (Mark); and ten great grandchildren ages 5 months to 11 years.
At Ron's request, no memorial service is scheduled. However, please raise a glass of Johnny Walker Black Label on the rocks at 1700 hours, whatever your time zone. And think of Ron every time you finish 18 holes under par, hum a Sinatra tune, and shout out the correct response to Final Jeopardy before the bell! You are cleared for takeoff, Captain Wortham."
Source: https://www.lucasfuneralhomes.com/obituaries/Ronald-Wortham/#!/Obituary