Allen Lewis wrote to tell us of the passing of his friend, Jerry Osgood whom he says was he was "the youngest Colonel ever to command a fighter wing".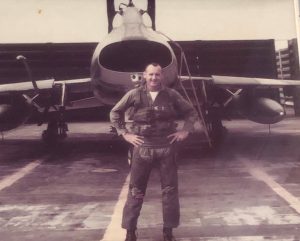 Col. Jerry Wright Osgood 84 was born in Arkansas but grew up in Starkville, Mississippi where he went to college. After college, he joined the Us Air Force and flew planes in Vietnam, was Commander of the 507th TAIRCW in South Carolina, Wing Commander of the 23rd Tactical Fighter Wing in  Louisiana, then as the head of the military attaches in South Africa.
After leaving the Air Force, he attended school to his Law Degree. After passing the Nevada bar he decided to move to Galt, California where he golfed, skied, and traveled.
He leaves behind his wife, Jo Ann " Jody" Osgood, his son Capt. J. Chris Osgood MD, and his wife Lisa, grandsons, Eric Osgood his wife Julie, Brian Osgood, Stephen Osgood, his granddaughter Alyssa Linings and her husband, Ronald and his great-grandson Robert John Osgood.
Because of the virus, there will be no service.
Sourcehttps://www.bensalasfuneralhome.net/obituary/jerry-osgood: