L. Reid Ivins, LtCol USAF, Ret.,  "Headed West" on December 17, 2019. 
Reid wrote his own obituary chronicling his military life, the details can be found under his biography tab at https://supersabresociety.com/biography/ivins-l-reid/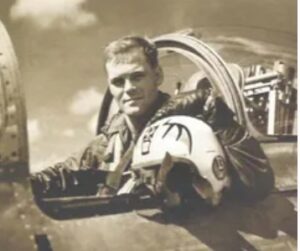 Reid was born July 15, 1930 in Ely, Nevada to Loraine Redd (LR) and Mildred Reid Ivins. He had an older sister, Dr. Della Mae Ivins Rasmussen, and a younger sister, Nancy Ivins Shelton. Reid lived a charmed life in the small towns of Lund and Overton, Nevada before moving with my family to Salt Lake City.
After high school, he attended the University of Utah, but left to join the USAF and flew F-86's during the Korean War.
In 1955 he met the love of his life, Ana Maria Pertierra, "Nani" and they married in the Philippines. They had four children, Tony (Cyndi), Brooke Ivins Peterson (Mark), Michelle Ivins Oates (Bart), and John (Shaunae).
Col Ivins was preceded in death by his parents and both sisters as well as his granddaughter Jenna Shae Ivins. He is survived by his wife of 64 years, Nani, his children and their spouses, 14 grandchildren and 35 great grandchildren.
Reid said "My life has been a series of grand adventures, some great and some not so great, but adventures just the same. I have lived, loved and savored experiences that few will equal and I am grateful for every one of them, good and bad, because they all helped shape me. I am grateful to my Savior and His sacrifice which means that I will have the opportunity to spend eternity with those that I cherished the most in this life. I am thankful for those who have helped in my later years when my physical abilities declined. They helped keep me engaged in the lives of friends and family. More recently, I am grateful to the nurses and staff at the Veterans Home in Ivins, Utah who cared for me generously over the past year.
God has truly blessed me and I hope that you are similarly blessed. And now . . . it's up, up and away to the next life and to see what eternity has in store for me."
Services were held on December 21, 2019 with interment  at the Tonaquint Cemetery, St. George, Utah.