In a tribute on the site Triple Crown Leadership, written by the Vanourek family, Jack is remembered as: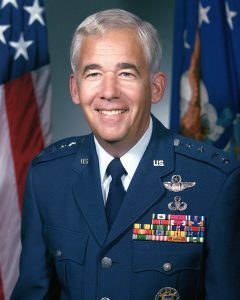 "A great leader and our dear family friend, Four-Star Air Force General John T. (Jack) Chain died peacefully in his sleep this month at the age of 86. All who knew Jack mourn his loss and are grateful for the time he had with us.
Jack and his dear wife Judie were neighbors of Bob and June not long ago in the Vail Valley of Colorado. We shared many wonderful hours with them at dinners, parties, and on the golf courses and ski slopes.
Once Gregg and Bob learned about Jack's extraordinary leadership in the U.S. Air Force, we interviewed him for our book Triple Crown Leadership: Building Excellent, Ethical and Enduring Organizations. Jack personified many of the traits of great leaders—especially the ability to flex between the hard and soft edges of leadership (what we called "steel" and "velvet") depending on the situation and the people involved…
"Jack's years of service in the Air Force were exemplary. He had over 5,000 hours of flying time in 50 different aircraft, an amazing number. Jack served two tours in Vietnam with over 400 combat hours flown. He was a master parachutist with 66 jumps. Among assignments at many duty stations around the world, Jack served as Military Assistant to the Secretary of the Air Force, Director of the Bureau of Politico Military Affairs for the Department of State, and Chief of Staff for Supreme Headquarters, Allied Powers in Europe (NATO).
Jack's military decorations and awards from the U.S. and Vietnam include Distinguished Service Medals, the Legion of Merit, the Distinguished Flying Cross, the Gallantry Cross, and Bronze Stars among scores of other medals including many Oak Leaf clusters, combat ribbons, service stars, excellence awards, and more.
After Jack's retirement from the Air Force, he signed a contract to be Executive Vice President of Burlington Northern Railroad. When approached later to become CEO of a large, prestigious firm where his skill set was a great fit, he declined because he had signed a five-year contract with Burlington. "A contract is a contract," he explained.
In his years after the Air Force, Jack also served as an executive or board member of Quarterdeck Equity Partners, The Thomas Group, RJ Reynolds, ConAgra Foods, Kemper Insurance, and Northrop Grumman.
Jack Chain was unique, and he lived and led with unimpeachable integrity. Jack was also fearless. He was proud that in all his years of flying fighters in training or combat he never lost a battle (although he reluctantly admitted that in training once he tied with an instructor)…
Our world has lost a great leader and exemplary human being. We have lost a dear friend who inspired us and brought much joy into our lives. Rest in Peace, General. You've earned it.
Godspeed,
Bob, June, and Gregg Vanourek
Jack Chain is survived by his wife Judie.