Waymond C. Nutt, MGen USAF, Ret., "Headed West" on May 13, 2021.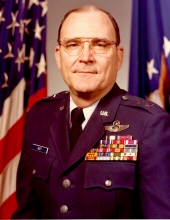 Beloved husband, father, grandfather, and great grandfather, Waymond Nutt, age 91, passed away on Thursday, May 13, 2021, with his family at his side.
Born in Ballinger, TX, he was raised in Mahomet, TX, and in 1951, graduated from Texas A&M University and was commissioned a second lieutenant in the U.S. Air Force. Upon completion of pilot training in 1952, he went on to become a fighter pilot flying 63 F-86 combat missions in the Korean War and 156 F-105 combat missions in Vietnam.
He spent 35 years as a military officer and retired as a Major General in 1985.
He was a constant joy and inspiration to his family and friends with a loving generosity that was unsurpassed. He was preceded in death by his wife of 64 years, Charlene Jenkins Nutt, and is survived by his two sons: Wayne Nutt and wife, Donna; and David Nutt and wife, Christine; five loving grandchildren: David Nutt and wife, Ebone; Courtney White; Jennifer Broadbent and husband, Mark; John Nutt and wife, London; and Justin Nutt and wife Hayley; and 11 great-grandchildren.
Graveside services were held on June 8th at Fort Sam National Cemetery and were live-streamed. The video of the service can be viewed at http://admin.mediafusionapp.com/_live/embedPlayer.php?contentId=92739&jwsource=cl. A Memorial Service followed at First Baptist Church of San Antonio in the Main Sanctuary.
Source: Maj Gen Waymond Cecil Nutt, USAF. RET. Obituary – Visitation & Funeral Information (porterloring.com)
For a more in-depth look at MGen Nutt's life see his bio at Nutt, Waymond C. – Super Sabre Society