Kirk B. "KB" Clark, Col USAF, Ret., "Headed West" on July 31, 2022, only days after his beloved wife Cookie passed away. His son, Kevin wrote on the PCN Flight West site to share the news.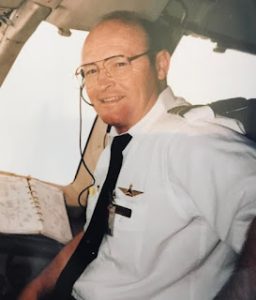 Kirk Blystone Clark, age 81, passed away at the Assured Assisted Living Memory Care Home in Parker, CO on July 31, 2022, from Parkinson's Disease.
Kirk was born October 16, 1940, in Eau Claire, WI. His parents were Wayne Gladstone Clark and Margaret Mae Blystone. He has two brothers: Wayne B. Clark, of West Allis, WI, and Hewitt B. "Rusty" Clark (Becky), of Tampa, FL. He has one sister, Annabel B. Clark, of Shawano, WI. He was married to Georgian Sue "Cookie" (Schaaf) Clark, also originally of Eau Claire. Cookie preceded Kirk in death by less than one week. She passed away on July 25, 2022, from Alzheimer's Disease. They have two sons: Kevin Clark of Centennial, CO, and Scott Clark, of Santa Fe, TX.
Kirk Clark was a man of action and adventure. He was an athlete, scholar, warrior, American patriot, fighter pilot, combat veteran, Air Force officer, airline pilot, world traveler, runner, hiker, walker, baseball player, and avid sports fan. Among his family, Kirk was a beloved son, brother, husband, father, grandfather, great grandfather, uncle, nephew, and cousin.
Kirk grew up in Eau Claire, WI, where he loved playing sports, especially baseball. He played second base on his high school baseball team at Eau Claire Memorial High School. They won the Wisconsin State baseball championship in 1958 during Kirk's senior year. Kirk later went on to play baseball for the Air Force Academy during his four years there.
In high school, Kirk met Cookie Schaaf, the woman he would one day marry. She was a cheerleader, he played football and baseball.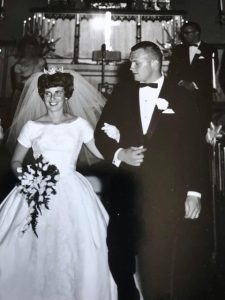 After graduation from high school, Kirk enrolled in the United States Air Force Academy in Colorado Springs, CO. He graduated from the Academy in 1962 and promptly married Cookie on June 30 of that year. He and Cookie have two sons, Kevin and Scott. Kevin and his family live in Centennial, Colorado. Scott and his family live in the Houston, Texas area. Kirk and Cookie have five grandchildren and three great-grandchildren. Kirk and Cookie celebrated their 60th wedding anniversary this year.
In 1962, Kirk went to pilot training at Williams Air Force Base in Chandler, AZ.  Then the family was stationed at Lakenheath Royal Air Force Base in England for three years (1964-1967). Kirk served as a fighter pilot in Vietnam from November 1967 to November 1968 where he flew
F-100 fighter bombers. During his tour in Vietnam, Kirk was able to help rescue a fellow pilot who had been shot down by providing cover and calling in a helicopter rescue ship.
In 1968, Kirk retired from active duty in the Air Force but continued flying as a pilot in the National Guard. He retired from the Air Force as a Colonel in 2000.
In 1968, Kirk began his career as a commercial airline pilot with Western Airlines. He flew for both Western and Delta Airlines until he retired as a Captain in 2000. As a commercial pilot, Kirk flew mainly in North America and Europe. He enjoyed exploring many cities in Europe during layovers including London, Rome, Prague, and Moscow.
Kirk loved spending time with his grandchildren watching their sporting events, dance performances, theatre productions, and taking his grandson Matthew to special therapeutic riding classes while Matthew was growing up.
Kirk was a huge sports fan and he enjoyed cheering for his beloved Air Force Academy Falcons. He had season tickets, so he was able to attend many Air Force Academy football games with his wife Cookie over the years. He also enjoyed rooting for the Green Bay Packers, the University of Wisconsin Badgers, and Colorado Sports teams like the Rockies, the Avalanche, the Denver Broncos, and the Denver Nuggets.
Kirk had a strong Christian faith and enjoyed being active at Faith Presbyterian Church in Aurora, CO. He served as an elder at the church for several years.
Kirk had a good sense of humor and he loved to joke around. You would know when he was joking because he would always have a telltale twinkle in his eye.
Kirk loved his wife, Cookie, more than anything in the world. When she died on Monday, July 25, 2022, we knew it wouldn't be long until he joined her. One of the nurses from The Denver Hospice who helped us during this time said, "It looks like Kirk and Cookie are racing each other to the finish line." Well, it turns out they were, and Cookie got their first. She loved games and was always every competitive so I am sure she will tease Kirk about the fact that she won this race. And, of course, she had to go on ahead of Kirk to make sure everything in heaven was ready for him. Including, we're sure, a warm plate of her famous chocolate chip cookies! Kirk finally joined Cookie in heaven on Sunday, July 31, 2022. He completed the final leg of his journey in less than a week, once he knew that Cookie was waiting for him.
Even though Kirk was gone a lot flying for the Air Force and for the airlines, he made sure that his children Kevin and Scott knew that he loved them and supported them in their endeavors. Kirk had high standards for his family and his sons were encouraged to excel at whatever they did. And excel they did: Kevin excelled in soccer, Scott excelled in both soccer and basketball, and they have both excelled in life. Kirk taught us how to be an Air Force Family and instilled in us the strong positive values of integrity, respect for all people, discipline, commitment to family, commitment to service, the value of hard work and education, patriotism, and a commitment to excellence in all things. In addition, Kirk taught his sons to be gentlemen and sportsmen and all the important values that go with that.
On July 31, 2022, at 5:57 pm Mountain Standard time, Kirk hopped in his supersonic jet for his last flight—this one bound for heaven. For your service to our country, your love of family, and for all your many other exploits on the ground and in the air, and on and off the baseball field, we salute you, Colonel Kirk Clark, for a life well lived!
Fly high and we'll meet you in the sky one day. Until then, you will be loved and missed.
Kirk is survived by his sons Kevin Clark (Cheryl) of Centennial, CO and Scott Clark (Laura) of Santa Fe, TX; his grandsons Andrew Clark, Matthew Clark, and Aaron Clark of Denver, CO; his granddaughters Jordan Rusk (Brad) and Connor Jennings (Mitchell) of Houston, TX; his great-grandchildren Lincoln Rusk, Jackson Rusk, and Madison Rusk of Houston, TX; his brother Wayne B. Clark of West Allis, WI; his brother Hewitt B. "Rusty" Clark of Tampa, FL; his sister Annabel B. Clark of Shawano, WI; and many other extended family members and friends.
Kirk was preceded in death by his beloved wife Cookie, who died on July 25, 2022, less than a week before Kirk did. Kirk is also preceded in death by his parents Wayne G. Clark, Margaret Mae (Blystone) Clark, and his sister-in-law, Agnes Clark.
A Memorial Service and Celebration of Life to honor both Kirk and Cookie is scheduled at 1:00 pm on Tuesday, August 9, 2022, at the Horan & McConaty Mortuary Chapel, 11150 E. Dartmouth Ave., Aurora, CO 80014. A reception will follow. Friends and family are invited to attend.
The Memorial Service will be recorded, live streamed, and available for later viewing at www.horancares.com.
At a later date, Kirk and Cookie's cremains will be interred together at the United States Air Force Academy Cemetery befitting Kirk's military service.
In lieu of flowers, Memorial Contributions may be made to the Eau Claire YMCA. To make a gift, please call Suzie Slota, Director of Mission Advancement, at 715-839-4631 or email her at sslota@ymca-cv.org. To find out more about the great work of the Eau Claire YMCA in the community, please view their website at YMCA of the Chippewa Valley at www.ymca-cv.org.
To visit Kirk's online obituary page, click here Obituary for Kirk Blystone Clark | Horan & McConaty (horancares.com)
Kirk's wife Cookie Clark has been sick with Alzheimer's Disease for over five years. She finally passed away on Monday, July 25, 2022. Obviously, these two were so deeply connected by their love for one another that when it was time to go to heaven, they both left within one week of each other."
To visit Cookie's online obituary page click here https://www.horancares.com/obituary/GeorgiannSue-Clark.
Condolences for the family should be sent c/o Kevin Clark, 19385 E. Prentice Lane, Centennial, CO 80015