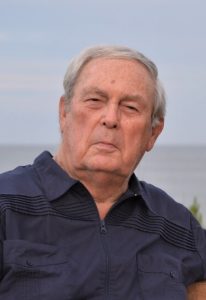 Cary Lee Broadway Jr., "Doc", age 89, peacefully died with family by his side on July 10th, 2022, in the comfort of his home in Merry Point, Virginia.
Doc Broadway was born on November 23rd, 1932, to Clara and Cary Lee Broadway Sr., in Davidson County, North Carolina, in a small farmhouse on his grandfather's farm. He attended the University of North Carolina on a football scholarship, where he graduated in 1955 with a degree in Political Science and an ROTC commission to the US Air Force. He graduated from the Air Force basic flying school in January 1957, with his set of wings. He faithfully served in the US Air Force from 1956-1978. During this time, he had over 4000 hours flying F-86s, F-100s, and F-4 Phantoms. He flew 168 missions over North Vietnam and was honored with The Silver Star, The Bronze Star, three Distinguished Flying Crosses, sixteen Air Medals, and The Meritorious Service Medal. His military career ended in 1978 when he retired as a full USAF Colonel at The Pentagon.
He entered private industry in Northern Virginia where he worked until 1988. After retirement, he continued to work with his wife, Sue, in the family art gallery and picture framing business. Broadway Galleries, run by his children Barry and Caron, is now in its 44th year.
In 1958, in Munich Germany, Doc met the love of his life, Sue Nethersole, in a small German hotel. They wed a year later in Bitburg Germany, where he was stationed, and were married for 63 years. They returned to the states in 1960 where they started their family. After being stationed together around the country and overseas, they eventually settled in Springfield, Virginia and later retired to waterfront property in Merry Point, Virginia.
He was a beloved husband, father, "Pops", and member of his community. His favorite pastimes were reading, golfing, boating, and most of all spending time with family, sharing a bushel of crabs and a good bottle of scotch. Doc will be most remembered for his love of God, family, and country – he was a true American patriot. His humor, incredible recall and storytelling, leadership, and camaraderie will be greatly missed by all.
His memorial service is scheduled for Saturday, July 23rd, 2022, at 11 am, at Wicomico Episcopal Church with a reception to follow. Final interment arrangements for him at Arlington National Cemetery, Virginia will be announced. In lieu of flowers, please consider making donations to Hospice of Virginia, 1924 Tapp Blvd., Tappahannock, VA 22560 or Northern Neck Partners for Pets, P. O. Box 361, Irvington, VA 22480 or northernneckpartnersfor pets.org.
Source: Currie Funeral Home
To read more about Doc Broadway, see his bio at Broadway, Cary L., Jr. – Super Sabre Society