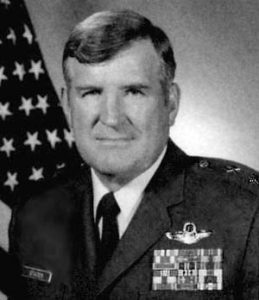 Major General Kenneth E. Staten passed away suddenly on his Fayette farm on November 7, 2018. He was 79 years old.
Kenneth Eugene Staten was born in Manhattan, KS, July 13, 1939, the son of Wilbur Joseph and Elnore Belle (Hays) Staten. In the wheat fields of Kansas, Ken discovered his two passions: farming and flight. Ken developed an abiding love of the land while doing chores on his parent's farm and on the farm of his mentor, George Gosney.
Watching planes fly overhead from nearby McConnell Air Base lured the young man to aviation and a life of adventure. After graduation from Mulvane High School, Mulvane, KS in 1957, Ken secured appointment to the third class of the U.S. Air Force Academy where he received a Bachelor of Science degree in military science in 1961. He earned a Masters of Science degree from the University of Southern California in 1974. Ken's military career was far reaching. He was a command pilot with over 4,500 flying hours in more than 45 different types of aircraft.
As a fighter pilot, he flew 265 combat missions in the F-100 at Bein Hoa Air Base, Republic of Vietnam. He also had tours of duty flying the F-100 at RAF Lakenheath, England and the F-4 at Udorn Royal Thai AFB, Thailand. Upon returning from Vietnam, Ken turned his attention to the testing and development of new aircraft and weapons systems. In 1969, he completed the US Air Force Aerospace Research Pilot School (now known as the Test Pilot School), and remained as an instructor. Later in his career Ken returned as Commandant of the school. Ken's experience in Vietnam and the problem of radar detection by the enemy led him to search for an innovative solution: planes the enemy could not see.
In 1975, Ken became the special assistant to the deputy chief of staff for research and development at The Pentagon where he was part of the cadre of five officers that initiated the low observables "stealth" program. He was the initial project manager of the F-117 Nighthawk, the first aircraft to be designed around stealth technology. The Nighthawk was shrouded in secrecy until it was revealed to the public in 1988. Technology developed by Ken's team ultimately led to the F-117, B-2 bomber, F-22 Raptor, and the F-35 Lighting II multi-role fighter.
While working in the world of Black Ops and secret experimental aircraft during the week, weekends found Ken on his small farm in northern Virginia helping his daughters raise and show Polled Hereford cattle. The connection of his two worlds was evident in the code names given to Stealth projects that were in actuality the names of popular Polled Hereford bulls at the time. The program was christened "Senior Trend" after Kiyiwana New Trend, the breed's first designated Superior Sire. Ken continued his career in the test and development field after the Stealth program. He became the commander of the 6510th Test Wing, Edwards AFB, CA where he was responsible for all flight test activities at the world's largest flight test base. He was the first program manager of the National Aerospace Plane Joint Program Office at Wright-Patterson AFB, Ohio. Ken was then assigned to Hanscom AFB, MA, as Deputy Commander for Tactical Systems, Joint Tactical Information and Distribution System and Airborne Warning and Control Systems, Electronic Systems Division. He was commander of the Armament Division, Eglin AFB, FL, which later became the Munitions System Division. His final active duty assignment was as deputy chief of staff for test and resources, Headquarters Air Force System Command.
Ken's military decorations and awards include the Distinguished Service Medal with oak leaf cluster, Defense Superior Service Medal, Legion of Merit with oak leaf cluster, Distinguished Flying Cross, Meritorious Service Medal, Air Medal with 14 oak leaf clusters. Ken met the love of his life, Carol Nicholl, while pilot training in Texas. They married on April 1, 1963 and together enjoyed 55 years of marriage. They relished the Air Force life with its adventure, travel, and frequent moves.
After his retirement from the military in 1992, Ken and Carol found the perfect location for their next chapter of life in the rolling hills of Missouri. Lilac Hill offered Ken the land he needed to begin his second career as a cattle farmer and Carol the historic home she always wanted to restore. Ken said, "Military wives are like ranch wives, they do everything, and the operation won't work without them."
Ken was the owner, manager, and principle labor force for Lilac Hill Polled Herefords for 26 years. His focus was to become a nationally recognized source of quality, predictable Polled Hereford Genetics. To achieve that, Ken applied the decision-making practices he learned in the Air Force to his herd. While his management style was quantitative and data driven, over time he learned to respect that Mother Nature always had the last word. In addition to his dedication to his own farm, Ken was dedicated to the advancement of the Hereford breed. He served on the Missouri Hereford Association board for five years, including a stint as president. He was instrumental in merging Missouri's Polled Hereford and Horned Hereford Associations to better serve all Hereford breeders across the state. In 2012 Ken was inducted into the Missouri Hereford Association Hall of Fame.
For nearly 20 years Ken's presentation at the MHA annual awards banquet was the highlight of the evening evoking laughter and tears with his stories and jokes. Ken took special satisfaction in supporting and mentoring youth and sought to instill in them the passion he had for knowledge and service. He served on the Howard County Fair Board and was a longtime judge of FFA speech competitions. He was also active in the Round Table Society in Fayette and continued his connection with fellow fighter pilots in the Super Sabre Society. Ken was a common fixture at O'Brian's service station. You could find him there most afternoons drinking a Mountain Dew and solving the world's problems.
Survivors include his wife, Carol; two daughters, Heather (Ben Bromham) Staten of Hood River, OR and Courtney (Jeff) Bramon of Fayette, MO. Ken was affectionately known as "Grumps" by his four grandchildren, Jacob and Charlotte Bromham, Chris (Heather) and Michael (Ashley) Bramon; and four great-grandchildren, Lana, Hayln, Emma and Clara. He was also survived by four sisters, Carolyn McIntosh, Ida Davis, Pat Staten, and Jay Staten, a sister-in-law, Suzanne Kennedy and a brother-in-law, James Robert (Kathy) Nicholl, along with many nieces and nephews. In addition to his parents, Kenneth was preceded in death by his father and mother-in-law Doc and Lil Nicholl and two brothers-in-law, Pat Nicholl and James Kennedy. A memorial service will be held at a later date at the Air Force Academy, Colorado Springs, CO. Memorial contributions are suggested to the Fayette FFA Scholarship Fund, in care of Friemonth-Freese Funeral Service, 174 Hwy 5 & 240 N, Fayette, MO 65248.
Condolences
Hearing from old Air Force friends from their young married days is a real boost for Ken's wife Carol.  To send condolences mail to:
Carol Staten
163 Highway 5
Fayette, MO 65248
Funeral Services
A memorial service will be held at a later date at the Air Force Academy, Colorado Springs, CO.
Interment
Memorials
Fayette FFA Scholarship Fund
Source: http://www.friemonthfreesefuneralservice.com/fullobit.php?ID=373