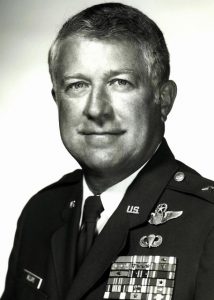 "The passing of a warrior. He met the challenge of keeping America safe."
Major General Gordon Williams "Headed West" November 22, 2018. Gordon "Gordy" Williams, was a command pilot with more than 4000+ flying hours in numerous Air Force and Navy aircraft including the F-100, F-4 Phantom. A-7 Corsair II, A-8, F-15 Eagle, F-16 Fighting Falcon, and A-10 Thunderbolt II.
General Williams was born in 1935, in Nashua, New Hampshire, and graduated from Alvirne High School, Hudson, New Hampshire, in 1953. He earned a bachelor of science degree in general engineering from the U.S. Military Academy in 1957 and a master of science degree in systems management from the University of Southern California in 1971. He completed Air Command and Staff College in 1969, National War College in 1975 and Harvard University's executive program on national and international General Williams graduated from the National War College in 1975 and then was assigned as commander, The United States Logistics Group, Detachment 118, Izmir, Turkey.
He also served in Spain, England, and West Germany.
Upon returning to the United States in September 1982, General Williams was assigned as Director /Commander of aerospace safety, Air Force Inspection and Safety Center at Norton AFB in California. In June 1985 he became commander of the 13th Air Force, Pacific Air Forces, Clark Air Base, Philippines. In March 1987 he was assigned as assistant deputy chief of staff for programs and resources at Air Force headquarters. He then became director for plans and policy, J-5, Headquarters U.S. European Command, Stuttgart-Vaihingen, West Germany, until his retirement in August of 1988.
General Williams was a member of the Super Sabre Society and the Friday Pilots. He will be greatly missed by all who knew him.
source: Wikipedia