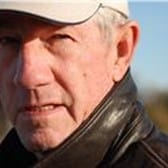 Thomas Rhea Fussell passed away at his home in Alamogordo, New Mexico, with his loving wife, Karin Fussell, at his side. He was the father to Tom Fussell, Ron Fussell, Gabriel Fussell, Jessica Fussell, Jeffrey Fussell, and Justin Fussell, and grandfather to six grandchildren, Jillian, Jeffrey Jr., Madeleine, Caylin, Addison, and Dylan, all of whom he loved deeply.
Lt. Col. "Fuzz" Fussell was born January 5, 1937, in Phoenix, AZ, where he graduated from Phoenix Union High School. In 1956, he began his career as a fighter pilot with the Air Force which spanned 29 years, including two combat tours in Vietnam, where he flew over 167 bombing missions in the F-100 Super Sabre and F-4 Phantom jet aircraft. In Tom's first tour in Vietnam he was promoted from Lieutenant to Captain, and in his second, he was promoted from Captain to Major. He was selected to participate in many unique programs, including the first night close air support demonstration that utilized techniques later made popular in Vietnam, and the Forward Air Controller program in which the pilot flies a Cessna aircraft over enemy territory (also in Vietnam) and radios the location of enemy positions to U.S. air support and artillery units. It was Tom's original idea that inspired the program, and his work in the FAC program was written about by author George Fielding Eliot (author of "Victory Without War"). It was for this work that he received the Silver Star Commendation.
Fuzz's training was wide and deep, including jungle survival, arctic survival, sea survival, airborne school, and counter-insurgency school.
Tom flew for the 8th Tactical Fighter Wing, the 27th Tactical Fighter Wing, the 522nd, 523rd, and 524th Tactical Fighter Squadrons. These included assignments in the United States, Europe, and the Pacific. He Flew for the 3rd Tactical Fighter Wing at Clark AB, Philippines, in the F-4 Phantom fighter jet, and at Luke AFB, Arizona, trained in the F-15 Eagle fighter jet. At Eglin AFB, FL, Tom provided top-off training for fighter pilots from Kadena AFB, Japan, and in 1980 took the first flight of F-15 Eagles from their factory in Saint Louis, MO, to Kadena AFB, Japan. Finally, he served as Chief of the Plans and Resources Division for the 685th Test Group, Holloman AFB, NM, before retiring.
Tom's Military decorations include The Silver Star, which is the "United States third highest personal decoration for valor in combat … for gallantry against an enemy of the United States." The Distinguished Flying Cross with two oak leaf clusters, awarded for "Heroism or extraordinary achievement while participating in aerial flight." The Bronze Star, awarded for "Heroic or meritorious achievement or service." The Meritorious Service Medal awarded for outstanding service to the United States. The Air Medal, with eleven oak leaf clusters, awarded for single acts of heroism while participating in aerial flight. The Air Force Commendation Medal with two oak leaf clusters, awarded for prolonged acts of heroism and meritorious service.
Aside from his extraordinary achievements in the Air Force, Tom was an accomplished sculptor, winning awards for his work and being featured in numerous art shows, as well as being a gifted painter. He was also noted for his wry sense of humor that could elicit a grin or a belly-laugh with just a word or phrase. It is a sense of humor that all family members now share.
Tom was an expert mechanic and engineer, having built a car to race at the Bonneville Salt flats, and going 203 MPH in that car. He also raced cars throughout the years at many road rallies, including the Pike's Peak Road Race. He was also an expert sailor, able to plot a course on the open sea, a testament to his survival training. In his younger years, Tom rode in the rodeo in the central Arizona area, competing in roping and Bronco riding. He was an avid outdoorsman his entire life and could hunt and fish with the best of them, being able to hunt with bow, pistol, flintlock, and any kind of rifle ever made.
Tom Fussell exemplified the quality of true grit from the old west in the genuine sense of the term, with no man being tougher or more determined. He grew up believing a person could do anything they put their mind to with hard work and persistence and demonstrated that ideal with his incredible and varied accomplishments. In the end, he could add Teacher to his resume because his family, friends, and colleagues all learned from his example. He will be missed, as all great men are missed.
His memorial service was held on Sunday, November 18, 2018, at the Alamogordo Funeral Home.
source: http://www.alamogordofuneralhome.org/obituary/lieutenant-colonel-thomas-fussell