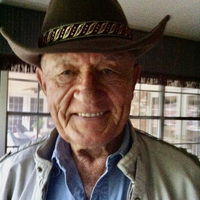 Marcial "Mike" Sorrel III (LtCol USAF, Ret) "Headed West" on March 1, 2021
Marcial passed into the arms of the lord on Monday, March 1, 2021, at his home surrounded by his family, he was 91.
"Mike" Sorrel was a veteran and served his country in the U.S. Air Force for 23 years flying fighter jets.  Marcial earned many medals and rose to the rank of Lt. Colonel.  Some of his many accomplishments include the Bronze Star, Distinguished Flying Cross, and the Air Medal.  He participated in countless military missions including the Cuban alert crisis and several tours in Vietnam.  He was stationed all over the world including the Philippines, Korea, Vietnam as well as all over the United States.  He graduated from Texas A&M University where he served in the core (ROTC).
After his storied career, he retired from the Air Force in 1973 when he returned to his hometown of Wharton with his "Precious Patricia" and his two children.  He reinvented himself and took over the family farm and cattle business.  Marcial even built his own plane and was still flying it until he turned 82!  He was extremely motivated and active until the end.  You could often see him working the land and cattle, spending time with his wife Maggie, enjoying his children, grandchildren, and great-grandchildren.  He was very active in the Episcopal church where he served as Senior Warden and formed the famed Blue Aprons.
Mr. Sorrel is survived by his wife Maggie Sorrel, two children: Martha Sorrel and Marcial David Sorrel.
He also leaves behind four grandchildren: Tommy Sorrel (Monica), Chris Sorrel (Meagan), Andrew Sorrel, and Katie Sieggreen.  His great-grandchildren: Kaylie, Drake, Luke, Charlie, and Lance. Marcial was preceded in death by his first wife of 58 years, Patricia Scott Sorrel.
Relatives and friends attended his memorial service on Wednesday, March 3rd, at the Wharton Funeral Home.  There were no visitation hours.
Source: https://www.whartonfuneralhome.com/obituary/marcial-sorrel-iii