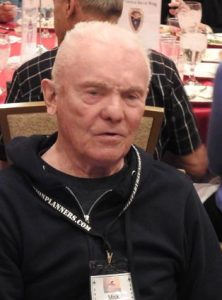 Robert "Mick" Greene, (LtCol USAF, Ret) "Misty 30" Headed West on March 13, 2021.
His daughter Kathy Lepper informed us that Mick passed away in his sleep at the nursing home where he had been residing. More information will be posted as it becomes available.
"Greene knew at an early age what he wanted to be – a fighter pilot. But as the youngest of a family struggling to get along, his options were limited. Still, he persisted and managed to get an appointment at the Naval Academy. It was a start. But when he learned that upon graduation from the Academy, he could transfer into the Air Force and directly into pilot training, he knew this was what he wanted to do.
Years passed, as Greene honed his flying skills in fighter squadrons and later as a test pilot. Then came the ultimate challenge. A combat tour in Vietnam as a "Misty FAC", a then classified, extremely dangerous mission, directing airstrikes against targets along the Ho Chi Minh trail in North Vietnam and Laos. All pilots were volunteers and the losses were high. In his simple, plain-spoken way, author Mick Greene describes how he survived in the flak-filled skies over North Vietnam." (from author notes on Amazon for Mick's book: The Life and Adventures of an Old Bold Pilot: Skill, Courage, Luck."
He will be missed.