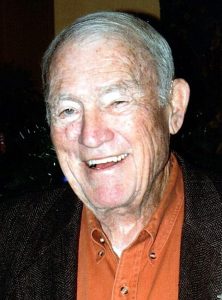 James "Big Thunder" LaChance (LtCol USAF, Ret) "Headed West" on March 23, 2021.
James G. LaChance (Jim) was born January 20, 1934, in Phoenix, Arizona, and passed away on March 23, 2021, in Austin, Texas at the age of 87. Jim has flown to the wild blue yonder and is at peace.
Jim attended the University of Nebraska and the University of Utah and was a United States Air Force Veteran. He had a distinguished 20-year Air Force career flying many aircraft like the F-100, the F-104, and flew a combat tour over Vietnam in the F-105 before retiring in Austin, Texas. After serving in the military, Jim was a real estate broker and custom home builder. He enjoyed spending time on the Thunderosa watching the deer, birds, and grandchildren play. Memories, including the legendary 4th of July BBQs, with Jim/Dad/Papaw, will always be cherished.
He was preceded in death by his wife, Deborah (Chapman) LaChance, parents, LtCmdr (Ret). George D. and Alice L. LaChance, brother George D. LaChance, Jr., and grandson Nicolas C. Brunelli.
Jim is survived by his brother, William L. LaChance, his sisters, Helen I. Wilson and Judy A. Little, his loving children, grandchildren, his great-grandchildren, and close friends.
Thank you all for your faithful prayers for our family.
Fly high Big Thunder!
Services were held on March 29, 2021, at Cook-Walden/Forest Oaks Funeral Home, 6300 W William Cannon Dr., Austin, TX 78749, and will include a graveside service. After the service, there will be a private reception for friends and family in Dripping Springs. We welcome you to join us.
In lieu of flowers, please make donations to https://www.afassistancefund.org/index.php/donate/. The mailing address for contributions: Air Force Assistance Fund AFPC/DP3SA 550 C Street West JBSA-Randolph, Texas 78150 *Please use a check, cashier's check, or money order.
Source: https://www.dignitymemorial.com/obituaries/austin-tx/james-lachance-10122316